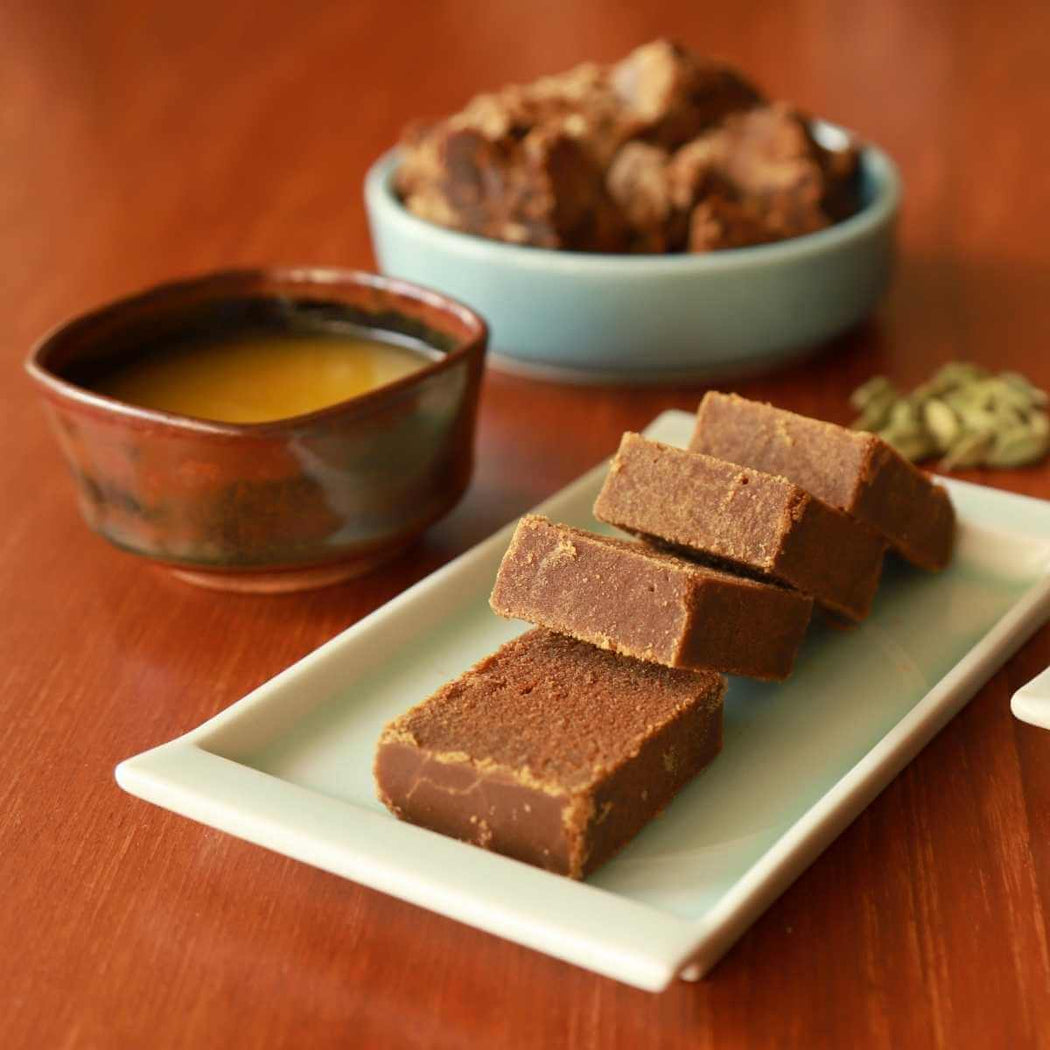 Karupatti/Palm Jaggery Mysore Pak
Ingredients: Gram Flour, Palm Jaggery (Karupatti), Brown Sugar, Milk Powder, Cardamom Powder, Ghee, Refined Sunflower Oil

Shelf Life: 15 Days

Allergen Info: Milk Power, Dairy

How To Eat: Serve it warn

How To Store: Store it in a cool and dry place inside an air tight container to retain its texture and increase its shelve life

Location: Chennai, Tamilnadu
Mysore Pak is a popular sweet in South India, where it is known as the "King of Sweets." Only in a few locations create it with pure ingredients, and we are proud to provide you with the best Karupatti Mysore Pak on the market. The dessert is created with Gram Flour, Palm Jaggery(Karupatti), Brown sugar, Milk Powder, Ghee, Sunflower Oil, Cardamom Powder. . Karupatti  Mysorepak has a delicious aroma and tastes thanks to the rich taste of karuppati and pure ghee, which melts in the mouth with a sweet sweetness. It is widely suggested for children since karuppatti is extremely beneficial for bone development and strengthening. Because it is high in iron, it can replace white sugar in your baby's diet.
This Mysore Pak is produced utilising real Palm Jaggery. It's made with fully natural, no artificial colour, no preservations, no white sugar. Healthy Sweet (100% Gluten Free) Homemade Taste! This confection's originality rests in its flavour. The inclusion of the traditional sweetener Palm Jaggery makes it healthier. Guests are offered this dessert at weddings and other special occasions. Get this Karupatti Mysore Pak at the best price from Snackative
Enjoy it; it's a delightful and nutritious Karupatti sweet from Snackative's online store. You may also like our other products like Thirunelveli Iruttu Kadai Halwa, Kanchipuram Tapioca Chips, kurukkathi Spicy Seedai, Karaikudi Plum Cake.
Awesome one
I got your mysorepak today, it's awesome. I'll definitely recommend you to my friends and family.
Good
My mom introduced me to this mysorepak. I don't like any savory snack items. But this is an exception, because it is mild and nutritious.
Unique and Original
I have tasted palm jaggery mysorepak, it's yummy and easy to eat. My kids enjoyed it and so did I. It is a unique product.
Best
Karupatti Mysoorepak is one of the best products that I have purchased from snackative.com
Karupatti Mysorepak
I am a fan of karupatti mysorepak and it is one of the best snacks for kids, just like it!