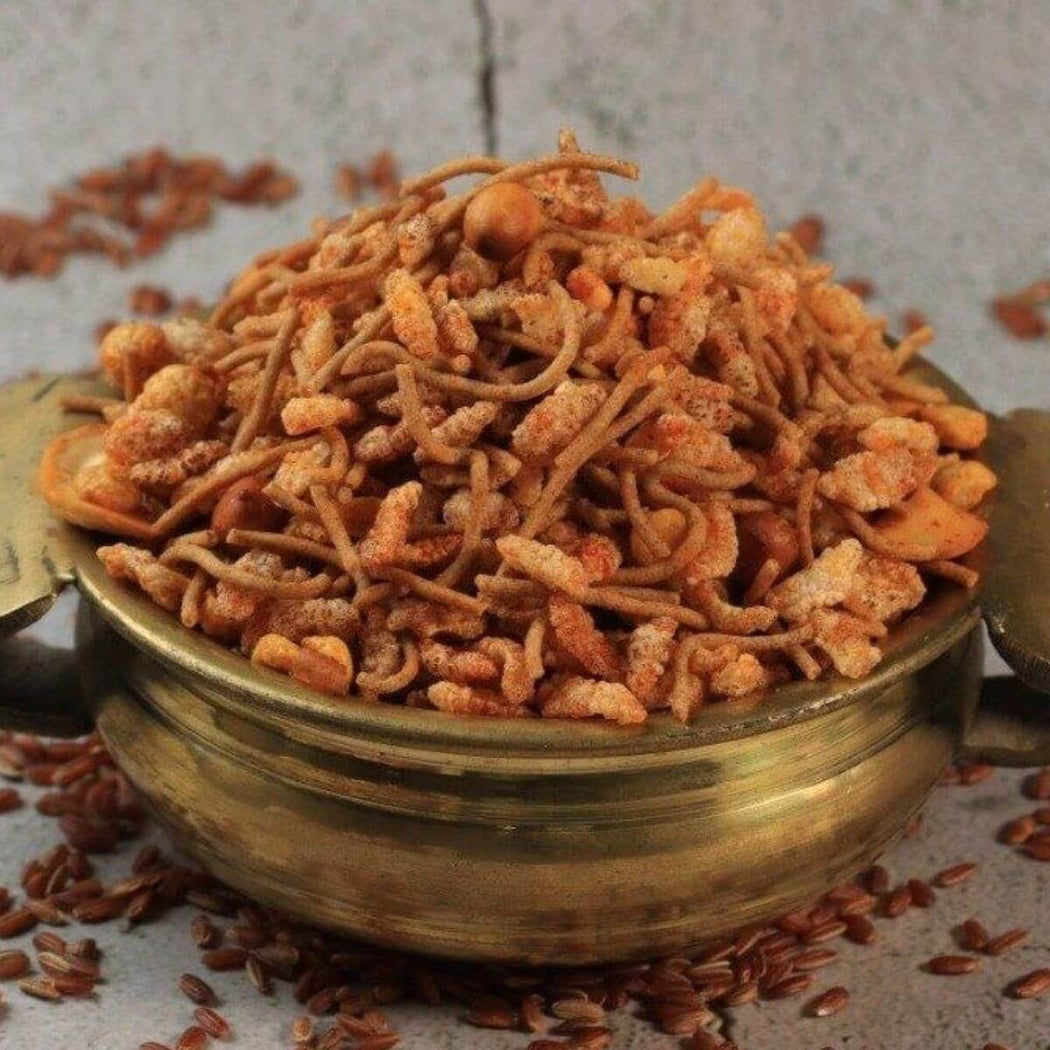 Sigappu Arisi (Red Rice) Aval Mixture
Ingredients: Red Rice Flour, Rice Flour, Gram Flour, Cashewnut, Roasted Gram Flour, Urad Dhal Flour, Asafoetida, Red Chilly Powder, Fried Gram Dhal, Garlic, Carry Leaf, Chat Masala, Peanut, Refined Sunflower Oil, Salt

Shelf Life: 30 Days

Allergen Info: Garlic, Peanut

How To Eat: Ready to Eat

How To Store: Store it in dry place inside an air tight container or ziplock bags to retain its crunchy taste

Location: Chennai, Tamilnadu
 We are proud to launch our new product 'Sigappu Arisi Aval Mixture'. With its unique taste and authentic texture, Sigappu Arisi Aval Mixture has become a household name in less than a month.
Sigappu Arisi Aval Mixture " Healthy snack option is an initiative from Snackative to introduce healthy and tasty snacks in the market. These healthy snacks are prepared using the goodness of natural ingredients with absolutely no additives or preservatives. They are a good source of carbohydrates and proteins, that provide instant energy and essential nutrition needed for our body
This rich and tasty snack provides you with energy and stamina to face the day ahead. The delicious mix of roasted rice flakes is a delectable treat. Healthy, guilt-free and delicious. This is the healthy snack option to munch on any time of the day!
Sigappu Arisi Aval Mixture is a special snack food with a lot of health benefits. The rice and lentil mixture imbibes all the flavours of the ingredients added to it. It tastes great and nutritious at the same time.
This Mixture is a combination of healthy ingredients from the farm --Red Rice(Sigapuarasi) Flour, Rice Flour, Gram Flour, Roasted Gram Flour, Urad Dhal Flour, Asafoetida, Red Chilly powder, Fried Gram Dhal, Garlic, Carry Leaf, Cashew Nut, Chat masala, Peanut, Refined Oil, Salt.. Made with wholesome ingredients and 100% vegetarian, has no artificial flavours or artificial preservatives.
Not only can this product satisfy hunger, but it also helps to keep the stomach full for a long time, preventing overeating especially at night.
Snackative Foods' Sigappu Arisi Aval Mixture can be ordered online for the same uncompromised taste and hygienic as your homemade snack! Try out our other varieties like Ragi Roasted Gram Thattai, Ulundu Laddu, Pottu kadalai Laddu etc.

Fresh
It is a healthy and crispy mixture . I have tried it today and it was so fresh.
Crisp and good
It is the most delicious Crispy Aval I ever had.
Healthy try
I would like to thank you all for delivering such a beautiful, healthy and tasty snack at our home. My husband and son absolutely loved it.