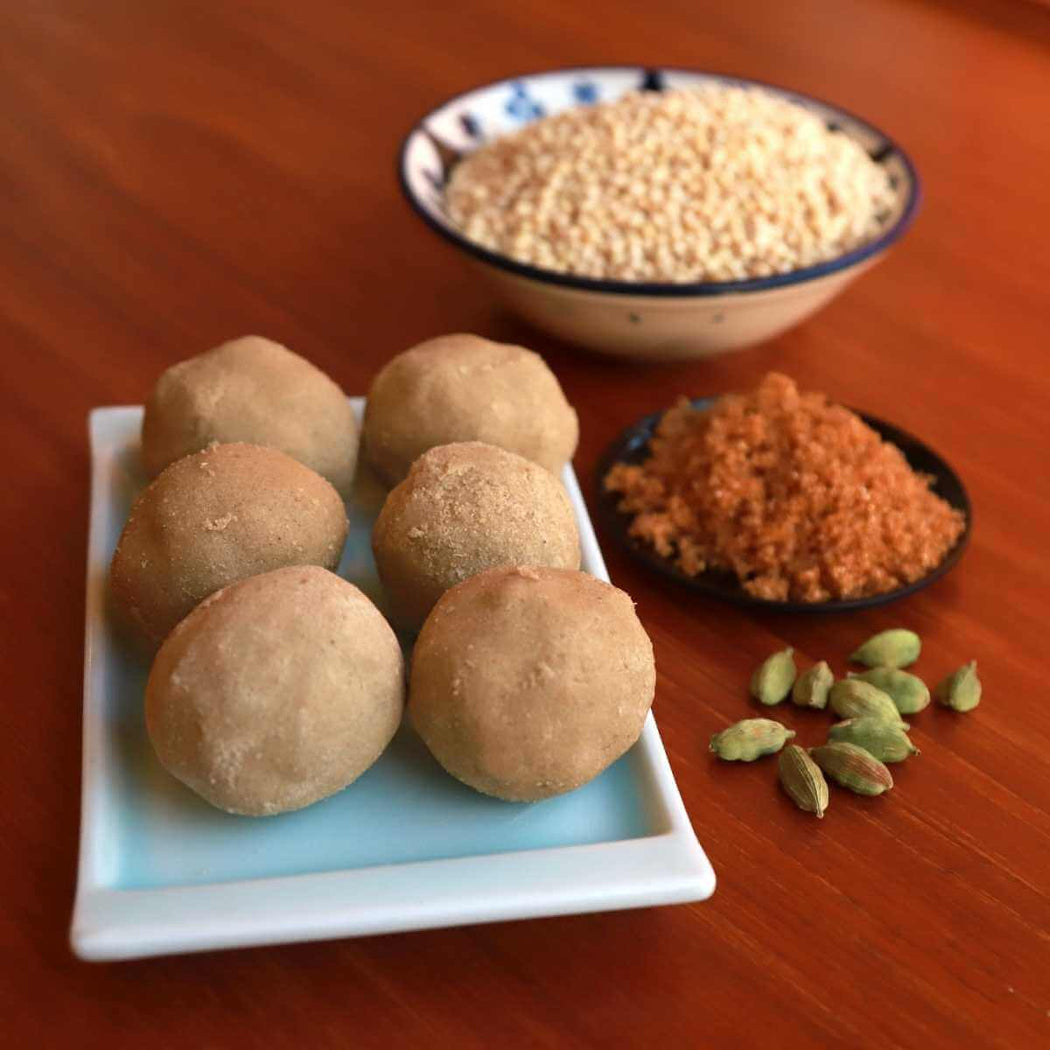 Ulundu (Black Gram /Urad Dal) Laddu
Ingredients: Roasted Urid Dall, Brown Sugar,Jaggery, Milk Powder, Cardamom Powder,Ghee
Shelf Life: 20 Days

Allergen Info: Milk Power, Dairy

How To Eat: Ready to Eat

How To Store: Store it in a cool and dry place inside an air tight container to retain its texture and increase its shelve life
Location: Chennai, Tamilnadu
Specially made, Ulundu/Black Gram Laddu is a healthy and nutritious snack. This product contains Roasted Urid Dall, Brown sugar, Jaggery, Milk Powder, Cardamom Powder, Ghee. This pure vegetarian food is free from artificial colour, no preservations, no white sugar. Additionally, it contains iron and calcium. This Laddu is the perfect snack for everyone including elders, children and young adults. The best part about this product is that it can be conveniently consumed while travelling or at home.

Made from premium quality Black gram/Urad Dal and rich in proteins and fiber. Enjoy the yummy taste of this laddoo, regularly. Experience the difference yourself. Our Ulundu Laddoo is a tasty, hygienic snack that is ideal for munching on the go. This is an ideal snack for kids of all ages.
For what reason you should buy urad dal laddus?
Our Urad Dal Laddoo is a perfect digestive snack. It does not contain any artificial colour or preservatives and can be easily digested even by individuals who have stomach trouble. It helps lose weight, cleanses the body and gives a refreshing feeling after eating it.
These healthful little balls of pure goodness make a tasty and nutritious snack. This delicious laddu not only tastes good but also serve as a perfect hospitality snack. The laddu will remain moist and soft for a long time, and can also be used as a finger food snack for kids.
When you were a kid, did your mother or grandmother's cooking give you the need to eat just by the fragrance of the food? If this is the case, ordering Snackative urad dal laddu online is all you need to relive those fond memories. The food you consume will bring back memories of your mother and grandma, so add it to your shopping cart now.
Try out our other Traditional sweets made without refined sugar: Kaju Kaapi Katli, Carrot Dated Mysore Pak, Karupatti Kaju Katli etc
Ulundu laddu
Tastes so yummy and good. Healthy laddu.
Traditional Laddu
This is a 4 star rating, we are so happy to have brought back the traditional Indian sweet
Very good
A complete taste of homemade laddu. very good one...
Ulundu Laddu
I have ordered this laddu for my husband who is a great fan of ulundhu laddu and i wanted to give him a surprise on his Birthday.I am so happy that i got the same taste of ulundhu laddu which was made by my grandma.
Great Laddu
I totally loved it. Great Job Snackative