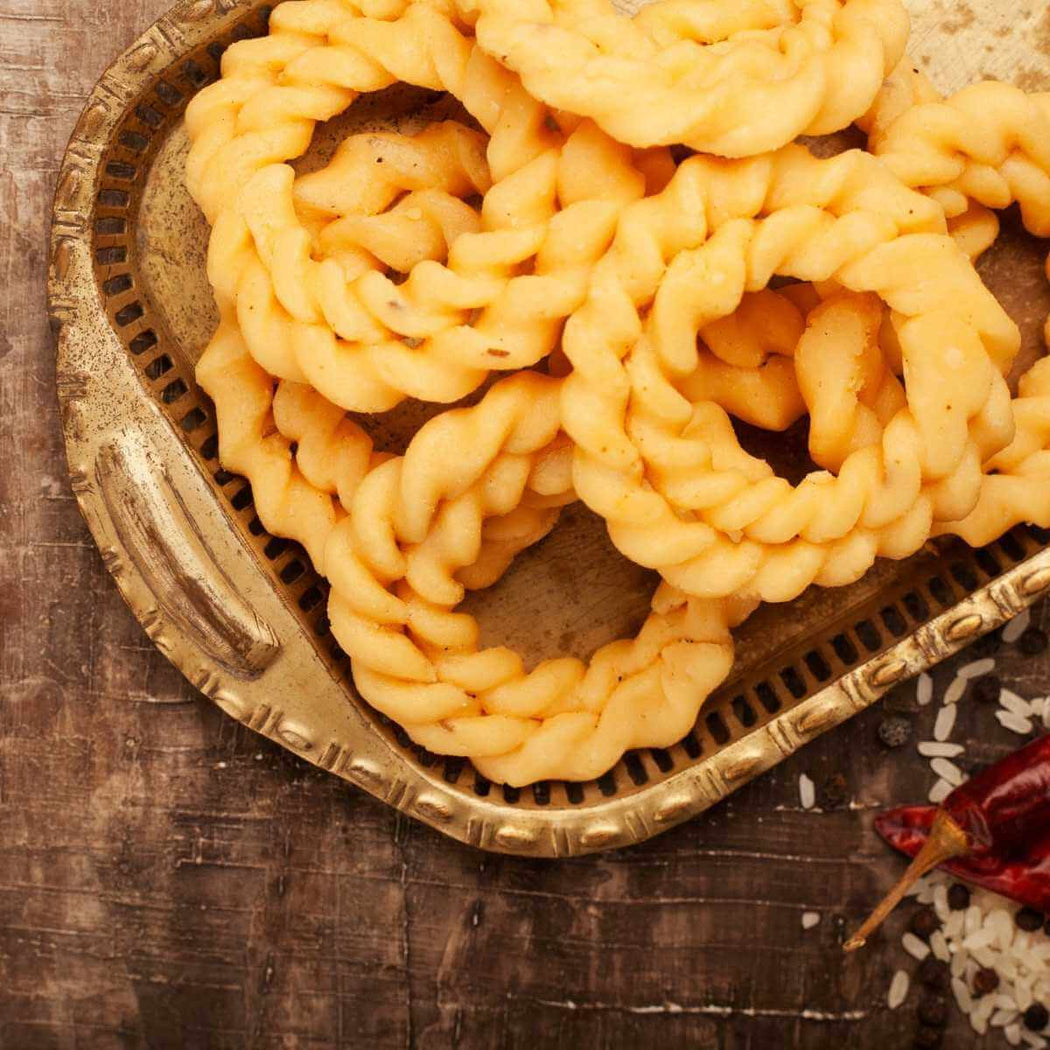 Handmade Murukku (or Kai Murukku) is a delicious South Indian snack consisting of Urad Dal Flour and Raw Rice Butter. Chennai Kai Murukku (handmade twists) is a mouth and eye delight. Originally from Tamilnadu, this spiral nibble has spread its wings all over India.

This timeless snack was created by ladies in the home. It would be fun to see them gathering in the house courtyard twisting their fingers to make these spicy delicacies. The aroma of Kai Murukku when dipped in heated oil announces the presence of a festival/function like Diwali. The output's crunchiness ensured that the box was emptied in days. Traditionally,  sharing jokes accompany this spiral joy. Shop Kai Murukku from snackative at the greatest possible price and quality.
What makes Kai Murukku a good choice? 
Our ancient legacy includes recipes that are not only tastier but also healthier, healthy, and enjoyed by all generations. These murukku recipes are handed down through generations. This is prepared during summer vacations when kids congregate at their grandparents' house. 
Rice is the main ingredient in Kai Murukku. Butter, Asafoetida, and Jeera Manapparai in Tamilnadu are famed for their very crunchy Murukku. Various regional variations exist. Making this classic treat is as easy as preparing the dough. This snack requires a lot of patience and a lot of Kai Pakkuvam (deftness of maker).
Kai Murukku is a year-round favourite and is part of important festivals like Janmashtami and Deepavali. It's also great for tea time or Netflix binges. Order Kai Murukku online in USA and treat your family to a traditional treat.
Additionally, you may purchase other delectable snacks from the Snackative online site, like kanchipuram tapioca chips, Aruppukottai seeval
Recent first time purchase
I recently got this murukku, fig/dates mysorepak & Ooty Varky - the murukku came crisp with no hint of staleness, the mysorepak melted in the mouth and the varky was as my wife remembered from her childhood days in Ooty.
I am glad this service exists and worked so well with the package arriving in around 8-10 days of ordering.
I had also ordered seedai which was not in the package for which I had been charged. While the Whatsapp service did not resolve it, the customer service here took note of my review & immediately issued a refund. Thank you for the speedy delivery, tasty snacks and quick resolution.
Kai Murukku
Price is high. Similar quality Murukku is available in US around $25 per Kg.
not fresh
i didnt like it- didnt seem fresh to me
Good taste and quality
Freshly made and great quality.
Diwali order
Too expensive we ended up paying custom duty which was not mentioned
Totally rip off I wouldn't recommend them