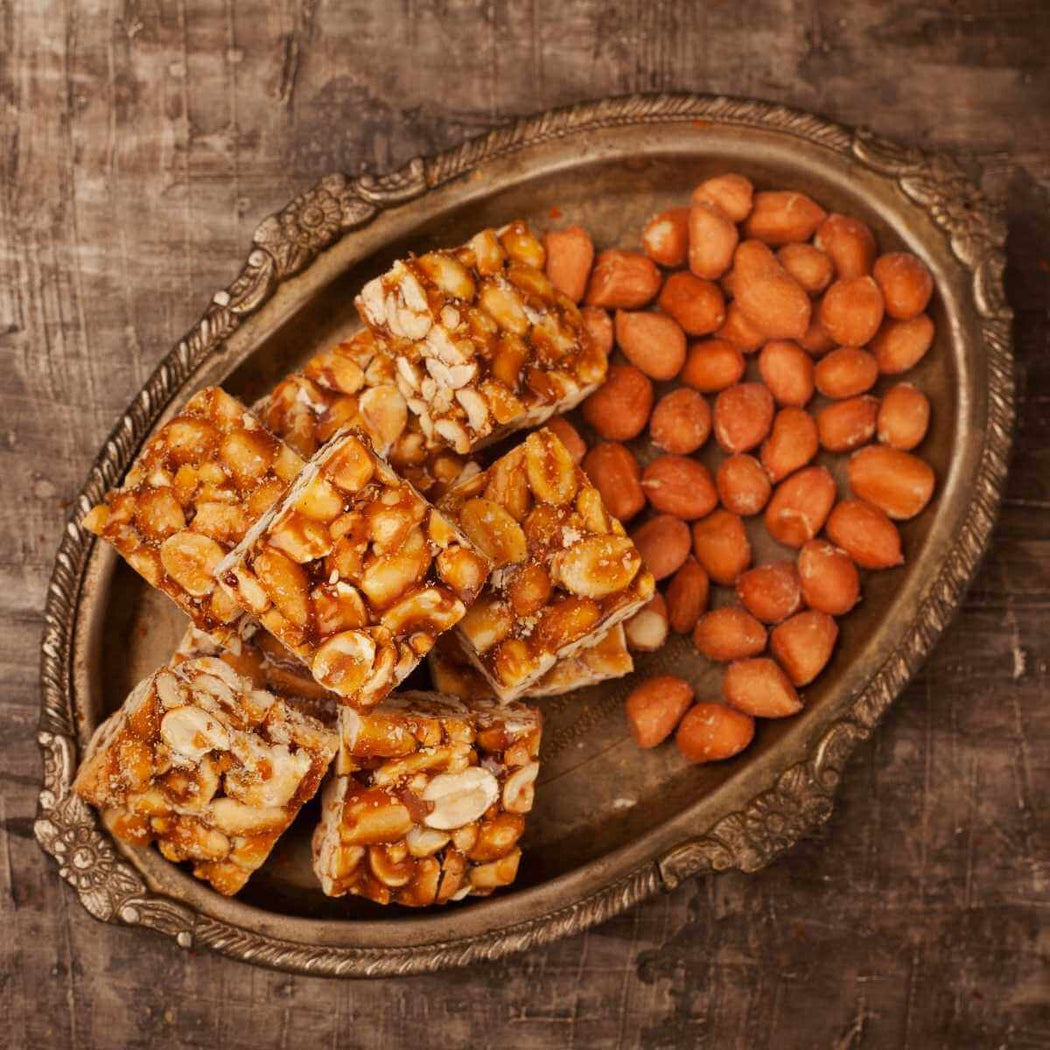 Kovilpatti Kadalai Mittai
Ingredients: Peanut, Jaggery, Ghee

Shelf Life: 30 Days
Allergen Info: Peanut, Dairy

How To Eat: Ready to eat

How To Store: Store it in dry place inside an air tight container or ziplock bags to retain its crunchy taste

Location: Chennai, tamilnadu
"Kovilpatti Kadalai Mittai" in the USA sold by Snackative is a healthy and high Protein delicacy prepared using natural ingredients like peanuts, jaggery and cardamom powder. You can buy kovilpatti kadalai mittai online right now at the best price by adding it to your cart at snackative.com.
It is a roasted peanut confectionery made with jaggery and glucose. It is also called Peanut Candy. Delicious and delectable kadalai mittai prepared in kovilpatti, a well-known south Indian city. Shop now "kovilpatti kadalai mittai from the famous shop"online. Peanut Chikki/Kadalai Mittai/Kadalai urundai is a great sweet snack or after-meal treat at any time of day. It is a popular sweet in Tamil Nadu, enjoyed by people of all ages. Because peanuts contain the same amount of protein as cashews, they occupy a unique position in South Indian traditional food habits. This is made with split peanuts that are held together with jaggery syrup and then topped with vibrant coconut shreds.
Now is the time to select the healthy snack option
The syrup is made with jaggery (both palm and sugarcane) and glucose and boiled till it turns dark brown or caramel coloured. The syrup is then removed from the heat, and roasted peanuts and cardamom powder are thrown in and tossed for less than 2 minutes. The huge cannonball of peanuts is thrown onto a wooden sheet dusted with tapioca flour. This is then rolled out using a rolling pin to even out all sides. The layered peanut mass is then cut into small cubes using a knife. This natural sweet delicacy is packed with immense health and beauty benefits. The combination of vital vitamins and proteins of peanuts and iron of jaggery. This traditional dessert is famous for its unique taste, crispiness and aroma.
Kovilpatti Cashew Mittai, Kovilpatti Black Ellu Mittai, Kovilpatti Ellu Mittai are further one-of-a-kind products from the same town of kovilpatti.
kovilpatti kadalai mittai
Must buy
a must-have for every kadalaimittai fans
Great Quality
Quality is excellent, and the flavour is delightful...
Original kadalai mittai
Without a question. Product that is 100 percent original.... Super💃
Good product
The best Chikki I've ever had...give it a try at least once.