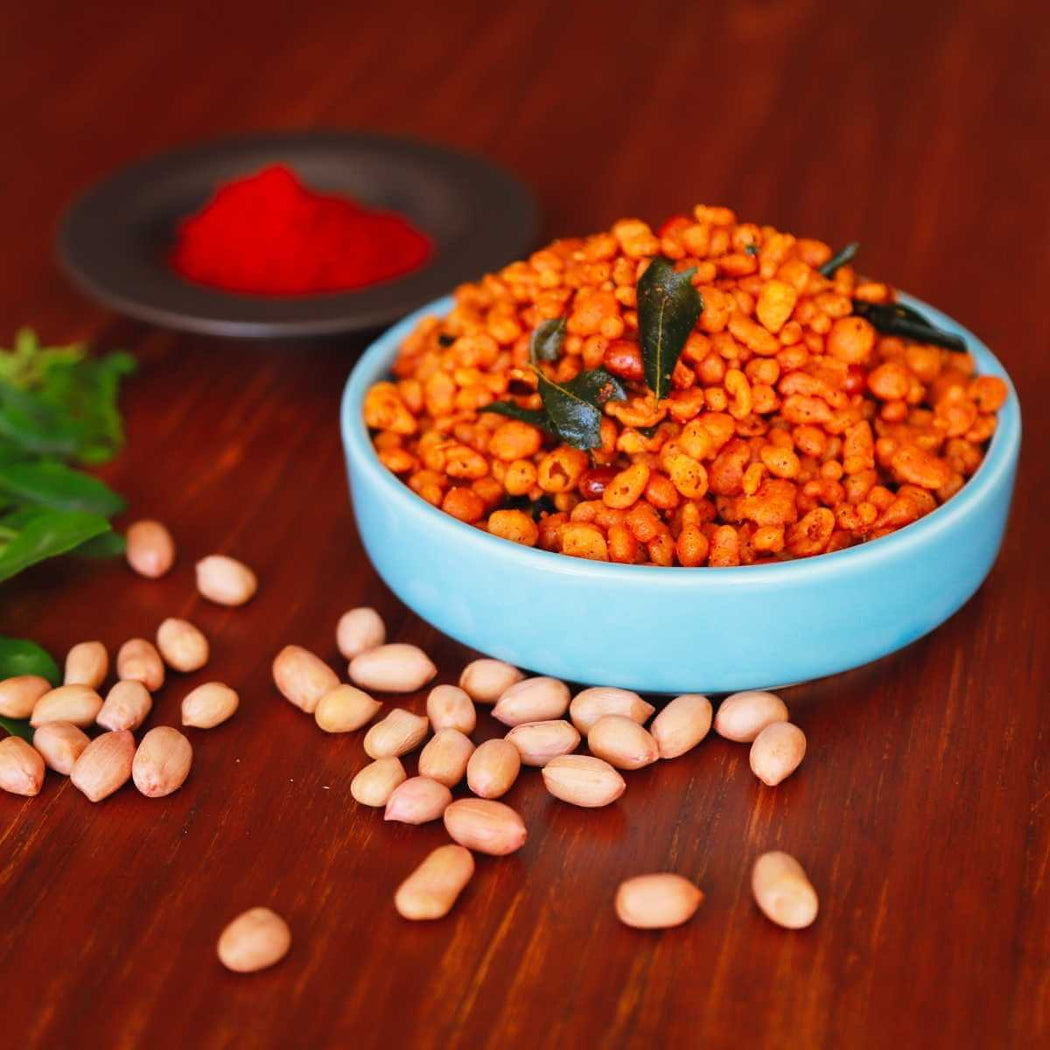 Kambu/Pearl Millet Kara Boondhi
Ingredients: Pearl Millet Flour, Gram Flour, Roasted Gram Flour,  Urad Dhal Flour, Garlic, Curry Leaf, Peanut, Chilli Powder, Asafoetida, Refined Sunflower Oil, Salt.

Shelf Life: 30 Days
Allergen Info: Garlic, Peanut
How to Eat: Ready to Eat
How to Store: Store it in dry place inside an air tight container or ziplock bags to retain its crunchy taste

Location: Chennai, Tamilnadu
Kara boondhi is a highly popular Indian savoury dish that can be prepared in a variety of ways. Taking a trip down memory lane, this version of Kara boondhi is made using Pearl Millet Flour and retains the crispy texture while still tasting great and being a healthy snacking alternative. 

This is a spiced form of boondhi that is made up of boondhi, peanuts, cashews, curry leaves, and a few spices, as well as other ingredients. It is a fried delicacy that is popular during the Diwali celebrations in southern India. There is nothing better than munching on this spicy boondhi combo at any hour of the day or night. It has a considerably superior flavour to the salted boondhi mixture that you can get outdoors.
Crunchy and crisp Kara Boondi is a simple and quick snack. This snack is  favourite among adults and children alike. When making Mixer/Raita, we can add Karaboondi as an ingredient, or we can consume it plain. Great with a hot cup of coffee or tea for a late-night snack. You don't have to bother with cooking anything; simply place an order for kambu kara boondhi online from Snackative and sit back and enjoy the best of Tamilnadu Sweets and Savories.
You can also get other traditional snacks such as Peanut Jaggery Laddu, Karuppati Kaju Katli, Carrot Dates Mysore Pak etc
Kambu/Pearl Millet Kara Boondhi
Fresh and Crisp
I like the way the Boondhi taste, it's fresh and crisp.
5 star
I am giving it 5 stars, not because I liked the product but because of their service.
Kambu Kara Boondhi
It is a healthy pick and good quantity of kambu kara boondhi