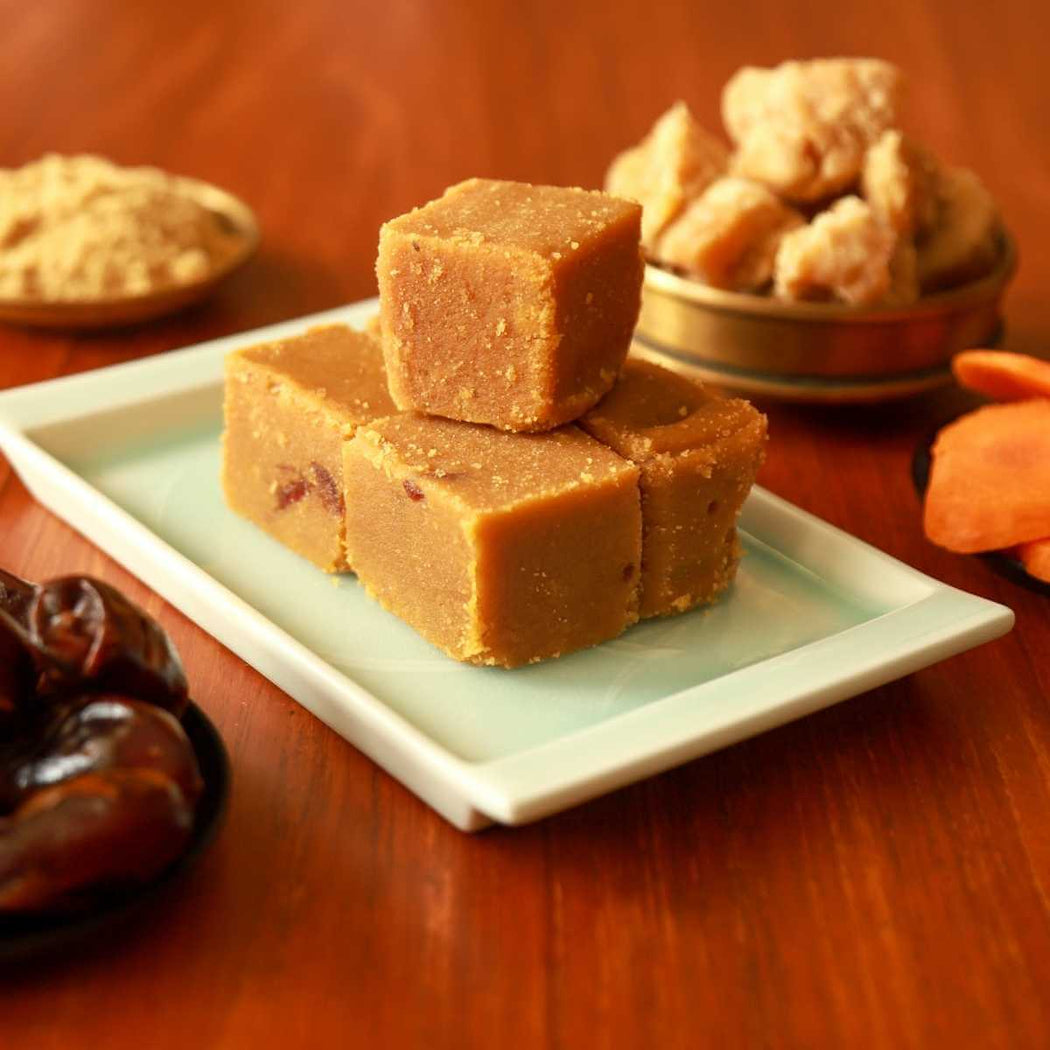 Ingredients: Fresh Carrot Juice, Dates, Jaggery, Gram Flour, Brown Sugar, Refined Sunflower Oil, Ghee

Shelf Life: 15 Days

Allergen Info: Dairy

How To Eat: Serve it warn

How To Store: Store it in a cool and dry place inside an air tight container to retain its texture and increase its shelve life

Location: Chennai, Tamilnadu

How To Story:  Store it in a cool and dry place inside an air tight container to retain its texture and increase its shelve life
Location:  Chennai, TamilnaduThere are numerous variations of Mysorepak, which is a well-known South Indian sweet. Carrot and dates Mysore Pak is an example of this. Carrot and dates For those who like something a little sweeter but nutritious, this Mysore Pak can be offered as a dessert. It's made with Fresh Carrot Juice, Dates, Jaggery, Gram Flour, Brown Sugar, Refined Sunflower Oil and Ghee. For parents looking to boost their children's diet with nutrition, this dish is for you.

See what Mysore Pak has to offer in terms of fantastic health benefits, nutritional data, and unique insights! Mysore Pak, which has been a part of our traditional diet since ancient times and has a long list of benefits and uses beyond ordinary food, will wow you with its health benefits. Snackative sells this healthy treat online so you can order it and have it delivered right to your house.

For what reasons should you purchase Carrot and Date Mysore Pak?
Carrots have a plethora of health advantages. Our immune systems suffer during the winter months as a result of the cold and lack of sunlight exposure as a result of the fact that we spend the majority of our time indoors. Carrots contain Vitamin A in the form of beta carotene, which is a carotenoid. It is an antioxidant that serves to boost our immune system and aids in the battle against infections and inflammation, among other things. When it comes to winter, the first thing that springs to mind is a plate of mouth-watering carrot dates Mysore Pak flavoured with ghee. Despite the fact that we adore this dessert, which is routinely made in many houses, the benefits of carrot dates are not limited to their delicious taste. This beloved sweet dish also boasts a plethora of health benefits, thanks to the abundance of nutritious components that go into its preparation. It's made with fully natural, no artificial colour, no preservations, no white sugar. 100% Gluten Free with Homemade taste!

There are a variety of additional treats available, like Erode Thaen Mittai, Makkan Peda, Vellaiyanai Adirasam, Manapparai murukku, Thirunelveli halwa and all.



Loved it
I was looking for someunique sweet to try, and i tried this one! it was unique sweet, first time i am tasting this caroot and dates mysorepak. Enjoyed it🙌
Good
I love this mysorepak and the carrot halwa is so good. I will order again.
I love the sweetness of this mysorepak and it is so soft and moist in texture. I also like the dates as it gives a nice twist to the sweet. It is divine!🙂