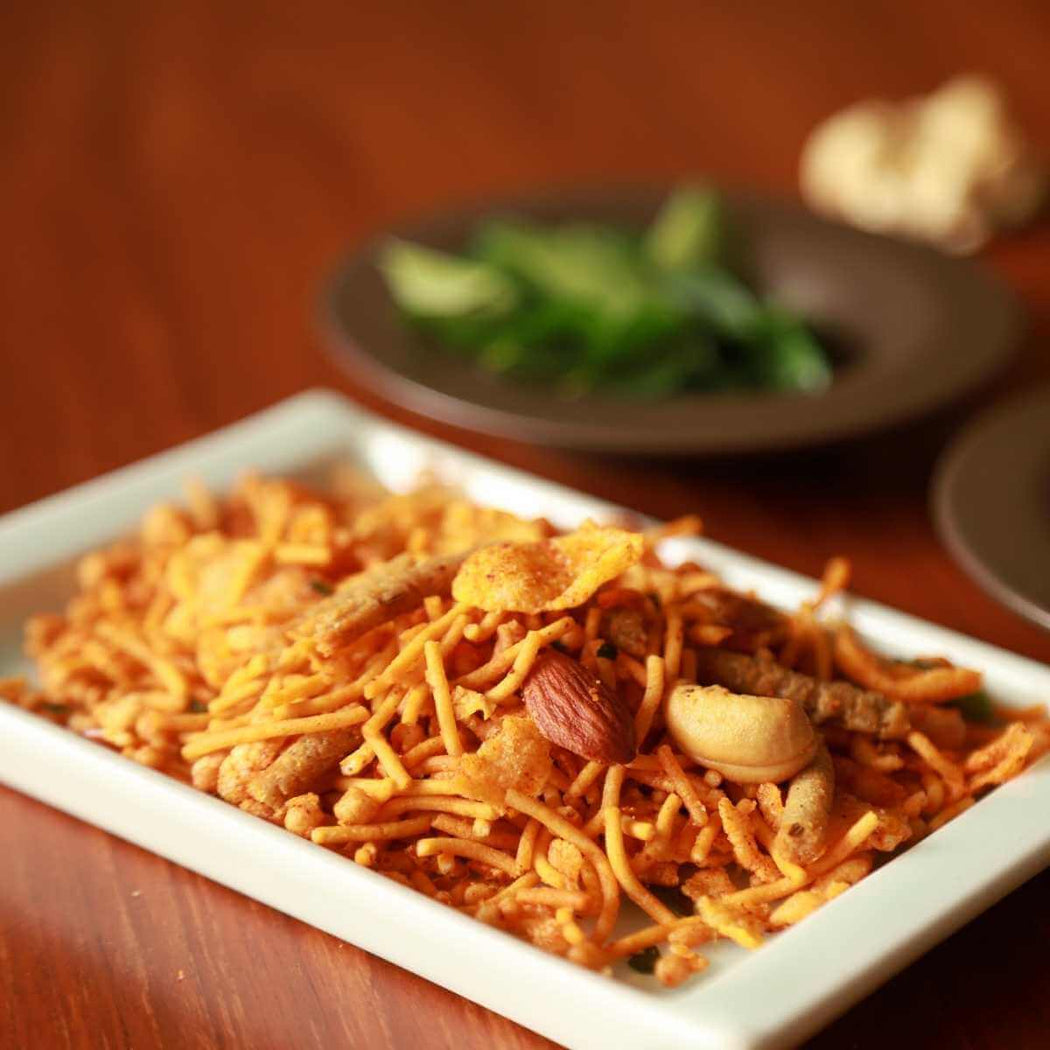 Ingredients: Foxtail and Great Millet Flour, Rice Flour, Roasted Gram Flour, Urad Dhal Flour, Puffed Rice, Gram Flour, Cashewnut, Almond, Peanut, Cornflakes, Red Chilli Powder, Chaat Masala, Asafoetida, Salt, Refined Sunflower Oil

Shelf Life: 30 Days

Allergen Info: Peanut

How To Eat: Ready to Eat

How To Store: Store it in dry place inside an air tight container or ziplock bags to retain its crunchy taste

Location: Chennai, Tamilnadu
The mixture, one of the popular and delicious South Indian snacks is made during Diwali. The mixture is a mix of various edible ingredients like Foxtail Millet (Thinai) Flour, Great Millet (Chollam) Flour, Rice Flour, Gram Flour, Roasted Gram Flour, Urad Dhal Flour, Puffed Rice, Cashewnut, Almond, Groundnut, Cornflakes, Refined Oil, Red Chilli Powder, Chaat  Masala, Asafoetida, Salt. It is usually accompanied by Bhel Puri or Sev Puri. 
What can be so fascinating about a mix of ingredients with nuts, right? Well, in South India, this dish is one of the most common and popular snacks during Diwali that's been made there for generations. In fact, they love it so much that you can even find them at Indian restaurants overseas. The ingredients are simple enough to find, too.
Our special madras mixture is a snack that will be a favourite with the whole family. It's a blend of four different types of cereals for a hearty taste. It's the perfect size to give you a boost to get going at home or on the go.
Our special madras mixture is a snack that you will not be able to stop eating! If you're looking for a spicy and sweet snack, look no further " these bite-sized treats are the perfect solution. We use the finest ingredients made with fully natural, no artificial colour, no preservations. An indispensable addition to any picnic basket! 100 % Gluten-free with a homemade taste.
The taste of childhood, crispy and crunchy; a special Madras Mixture is something to look forward to with every lunch box. Purchase and feel happiness with Snackative's realistic, authentic, and fascinating Madras style Spl Mixture taste. Additionally, you can order and purchase other traditional snack varieties like Masala Peanut Pakoda, Varagu Oma Podi etc
Need to improve the customer service
Delivery and packages are very good but few snacks are not fresh and customer support is not good. No response to complaints :(
Good
I bought it for my friend and he said he loved the taste.
Superb
I have been looking for a good madras mixture, finally I found it. It's delicious. We loved it. Thanks
Good Service
The service was fast and the communication was also good.. I would recommend this to any one who is looking for a good mixture…