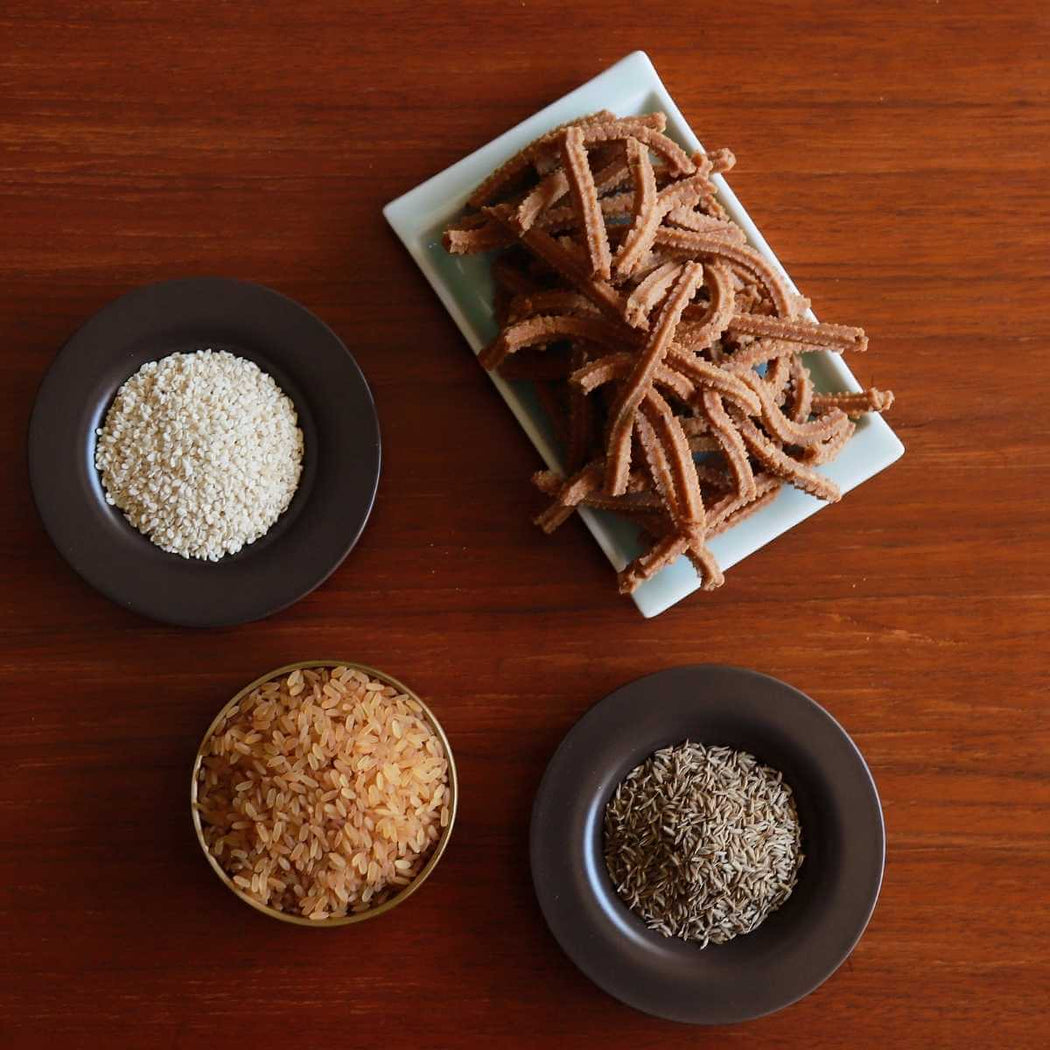 Sigappu Arisi (Red Rice) Mullu Murukku
Ingredients: Red Rice Flour, Rice Flour, Gram Flour, Salt, Roasted Gram Flour, Urad Dhal Flour, Asafoetida, Sesame Seeds, Cumin Seeds, Refined Sunflower Oil

Shelve Life: 30 Days

Allergen Info: Sesame Seeds
How To Eat: Ready to Eat
How To Store: Store it in dry place inside an air tight container or ziplock bags to retain its crunchy taste
Location: Chennai, Tamilnadu
Sigappu Arisi Mullu Murukku is an extremely healthy South India snack that is easy to make. It is crispy, and yet not too oily. It is a good source of fiber and protein and easy on the stomach.
When you need a snack without guilt, Sigappu Arisi Mullu Murukku is the answer. These delicious murukku are made of premium Red Rice Flour, Rice Flour, Gram Flour, Roasted Gram Flour, Urad Dhal Flour, Asafoetida, Sesame Seeds, Cumin Seeds, Refined Oil, Salt. Packed with double protein, this crisp snack is one of our bestsellers. By ordering through snackative, you may experience Authentic taste in the comfort of your own home.
Our Sigappu Arisi Muruku is a healthy snack option for children. Sigappu Arisi renders a crispy, healthy and delicious experience to snack-food lovers. It takes a form of a thick sev with a mild, spicy flavour. The fine texture makes it an appetizing option as snack food. The evenly shaped coils fit perfectly in between your teeth and make your snack time enjoyable.
The snack you can eat on the go!
Eat them on the go for a filling energy boost, or serve them at your next party. Our Red Rice Mullu Murukku is available online through Snackative, nationwide shipping---so you can enjoy the real taste of this wherever you are.
Whether you serve them as a starter or an accompaniment to beverages, these mouthwatering snacks are sure to raise temperatures at your celebrations and will be a big hit with the young and the old alike. It's made with fully natural, no artificial colour, no preservations. Healthy Snacks ( 100% Vegan and 100% Gluten Free) Homemade Taste! Place your order at Snackative for Healthy and Tasty snack options like Kambu Kara Boondhi, Ragi Olai Pakoda, Varagu Ribbon Pakoda etc.