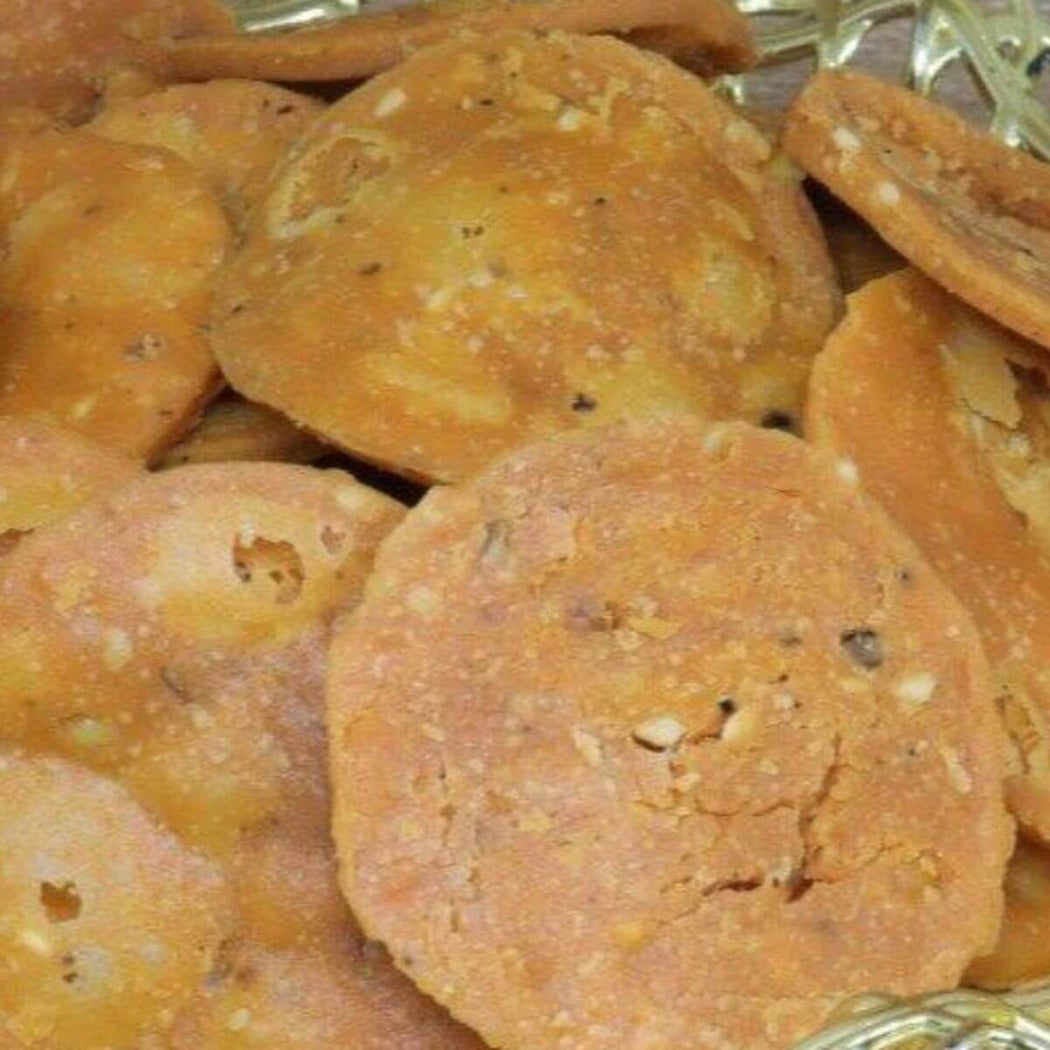 Ragi (Finger Millet) Roasted Gram Thattai
Ingredients: Ragi Flour, Rice Flour, Urud Dall Flour, Roasted Gram Flour, Salt, Asafoetida, White Sesame, Jeera, Roasted Gram Dal, Red Chilli,Refined Sunflower Oil.

Shelf Life:  30 Days

Allergen Info:  White Sesame

How To Eat:  Ready to Eat

How To Store:  Store it in dry place inside an air tight container or ziplock bags to retain its crunchy taste

Location:  Chennai, Tamilnadu

Ragi Roasted Gram Thattai is a tasty and health-friendly snack option. Unlike other snack options, it is gluten-free, wheat-free and has no artificial flavour. It consists of roasted gram flour in roasted ragi flour that makes it an excellent source of nutrition and tastes like Chips. 
Made using Ragi flour, Rice flour, Urud Dall Flour, Roasted Gram Flour, Salt, Asafoetida, White sesame, Jeera, Roasted Gram Dal, Red chilli, Oil, this versatile pack can be enjoyed as an on-the-go snack or munched together with your favourite chutney for breakfast. An excellent source of protein, complex carbohydrates and dietary fibre, this is the best way to fuel up with wholesome goodness.
Ragi is a healthy alternative to wheat flour commonly used in Indian snacks. It also helps improve immunity, aids digestion, and is high in fibre and protein. It is a perfectly healthy option for evening snacks or for school lunchboxes.
Ragi Roasted GramThattai is a traditional South Indian snack traditionally prepared during the festive season like Krishna Jeyanthi, Diwali. It is the healthiest snack alternative for children. Made from roasted gram and green gram, it is extremely nutritious and healthy with low-calorie content. It is gluten-free, vegan free with a homemade taste.
Finger Millet Roasted Gram Thattai Is Now Available To Order Online! at (Premium Quality). Top-notch materials go into each and every batch.
You may also try our other healthy snack options like Kambu Kara Boondhi, Varagu Omapodi etc
Good
The right ones will give you that perfect bite and crunch...just the way I like it.
Disappointed
Pls reduce the delivery time
Nice
I'm not a big fan of ragi but these are the best ragi thattai I have ever tried!!! They are not too oily, not too spicy and really crunchy!!
Authentic Taste
I am a regular customer to this website and have been trying different things. They make delicious and authentic food.