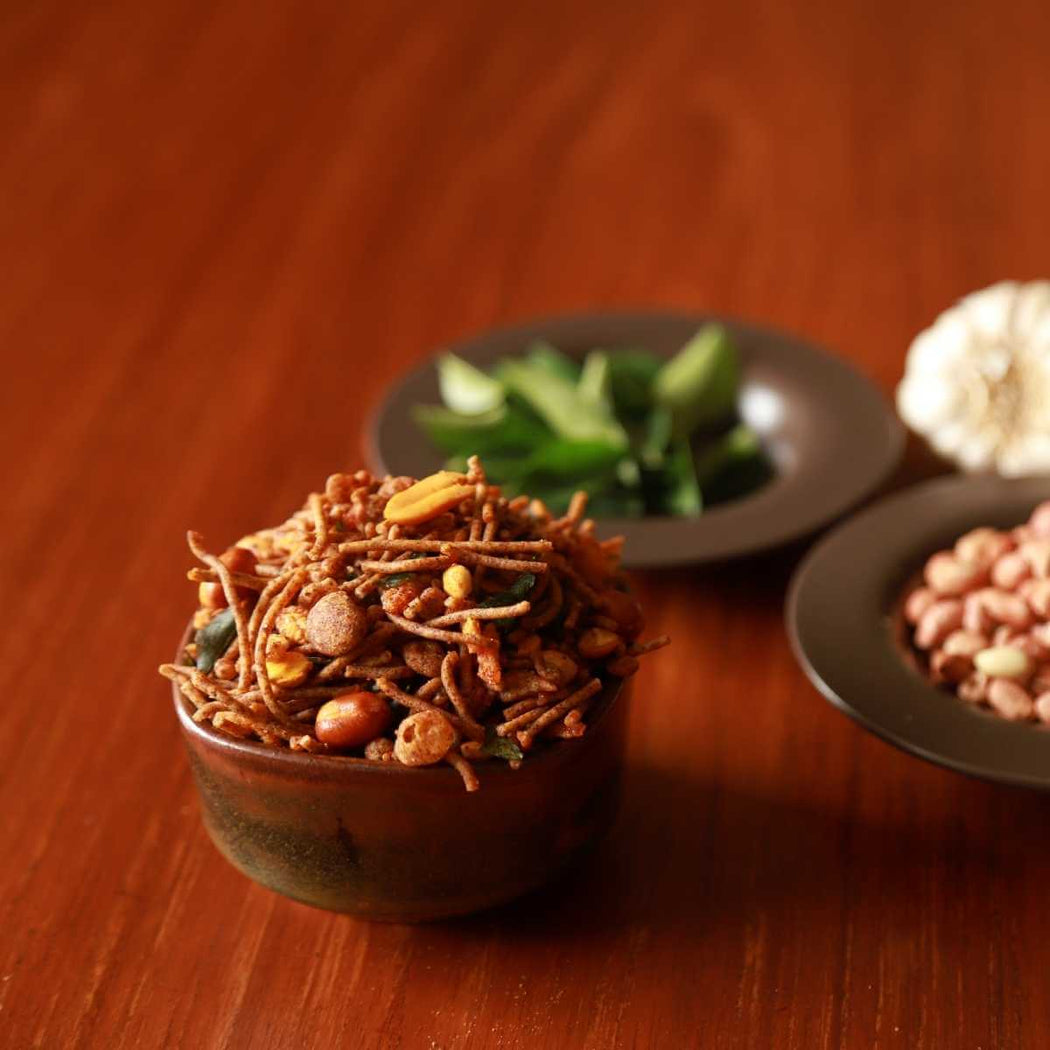 Ragi Mixture (Finger Millet Mixture)
Ingredients: Finger Millet Flour, Gram Flour, Rice Flour, Roasted Gram, Flour, Urad Dhal Flour, Peanut, Roasted Gram Dhal, Puffed Red Rice, Red Chilli Powder, Garlic, Curry Leaf, Asafoetida, Refined Sunflower Oil, Salt

Shelf Life: 30 Days
Allergen Info: Peanut, Garlic

How To Eat: Ready to Eat

How To Store: Store it in dry place inside an air tight container or ziplock bags to retain its crunchy taste

Location: Chennai, Tamilnadu
"Ragi Mixture" is a healthy snack option with a crunchy mixture of Finger Millet (Ragi) Flour,  Gram Flour, Rice Flour, Roasted Gram Flour, Urad Dhal Flour, Peanut, Roasted Gram Dhal,  Puffed Red Rice, Red Chilli Powder, Garlic, Curry Leaf, Asafoetida, Refined Oil, Ajwain, Salt. Ragi being high in iron content is good for children's cognitive development. This snack will provide energy to the growing kid and it can be prepared within minutes. Packed with protein, fibre and flavours that are aromatic, the snack is also gluten-free. This one of a kind snack can be consumed as a snack or added to hot rice or dal as a side dish for a wholesome meal.
Why Should You Choose a Ragi Mixture?
Ragi Mixture is a healthy snack option. Mixed with a special seasoning it is a tasty high energy instant snack for your on the run lifestyle. This snack is sweat-free and rich in fibre, low in fat and cholesterol-free. Ragi is said to have an excellent source of calcium and iron thus making it ideal to be consumed by individuals.
It is an alternative to junk food that packs in many nutrients, yet has a taste similar to crispy rice or crackers. This healthy snack can be eaten during journeys for a short break without any guilt. Ragi Mixture is a healthy snack mix with a crunchy texture and taste. It has high fibre content and is rich in calcium, iron and other minerals which makes it an ideal snack option for kids.
Grow up your child's immunity level by giving him this healthy snack. 100% Vegan and 100% Gluten Free. Place your Order at Snackative Online and take advantage of the benefits! Also, try other options like Ragi Olai Pakoda, Thinai Mul Ribbon Pakoda,etc.