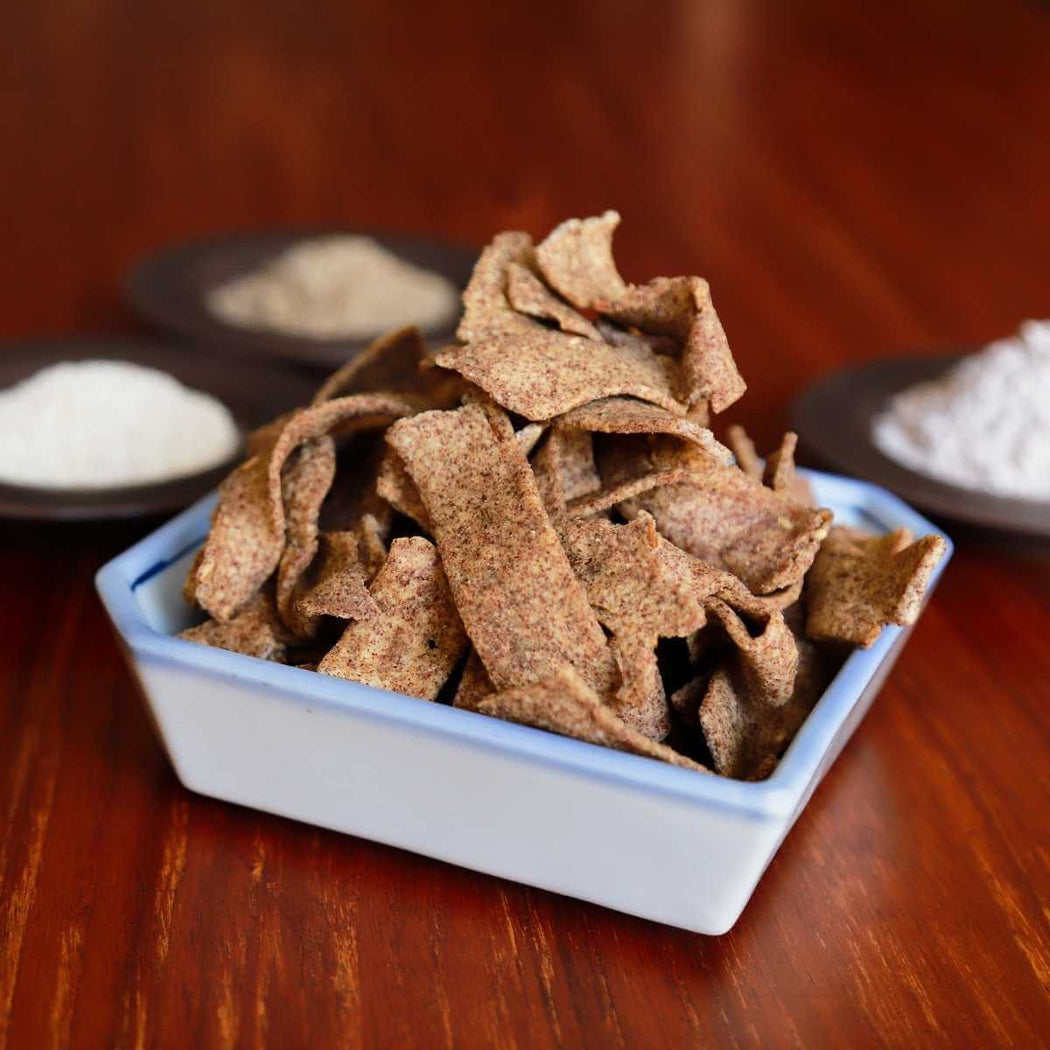 Ragi (Finger Millet) Olai Pakoda
Ingredients: Finger Millet (Ragi)Flour, Rice Flour, Gram Flour, Roasted Gram Flour,Urad Dhal Flour, Asafoetida, Sesame Seeds, Cumin Seeds, Refined Oil, Salt

Shelf Life: 30 Days

Allergen Info: Sesame Seeds

How To Eat: Ready to Eat

How To Store: Store it in dry place inside an air tight container or ziplock bags to retain its crunchy taste
Location: Chennai, Tamilnadu

Ragi Olai Pakoda is a healthy snack food item made from Ragi/Finger Millet and very popular in South India. This is a tasty and tasty dish for all age groups and it may be served as evening tea snacks.
Ragi "Olai" Pakoda is light crispy snacks made from Ragi, are a true delight for your taste buds. It is baked crisp and deep-fried in refined oil. These savoury, crunchy pakodas are made with  (Ragi)Flour, Rice Flour, Gram Flour, Roasted Gram Flour, Urad Dhal Flour, Asafoetida, Sesame Seeds, Cumin Seeds, Refined Oil, Salt. Ragi (Finger Millet) Olai Pakoda is Millet Based Savouries and It's made with fully natural, no artificial colour, no preservations. Delicious Kaju Pakoda may be purchased online through snackative.com.
A tasty and healthy snack to enjoy any time of the day! Don™t Miss
Ragi (finger millet) is the most consumed grain in India. Ragi flour is fibre rich flour and contains lots of antioxidants, vitamins, calcium and iron. This nutritious makes you feel nice and you can make a variety of dishes out of it like porridge or pakoda. It's a great snack to serve during a party or just an evening snack. 
The health benefits of ragi are so numerous that it has been accepted as the Supergrain throughout the world. Ragi Olai Pakoda is delicious food that has taken many forms in many different parts of India. A favourite of young and old, it is a one-of-a-kind snack food with a great taste
Ragi Olai is one of the favourite snack items among the people in the southern state of Tamil Nadu. Ragi (finger millet) is an exceptionally versatile grain with many popular recipes, both sweet and savoury. The crunchy nature of ragi makes it ideal for deep-frying. The texture becomes crispy on frying and soft inside, melting in your mouth giving you a delightful taste.
Healthy Snacks ( 100% Vegan and 100% Gluten Free) Homemade Taste! Buy it now through Snackative online store and try other healthy options like Ragi Mixture, Sigappu Arisi Mullu Murukku, Special Madras Mixture etc.