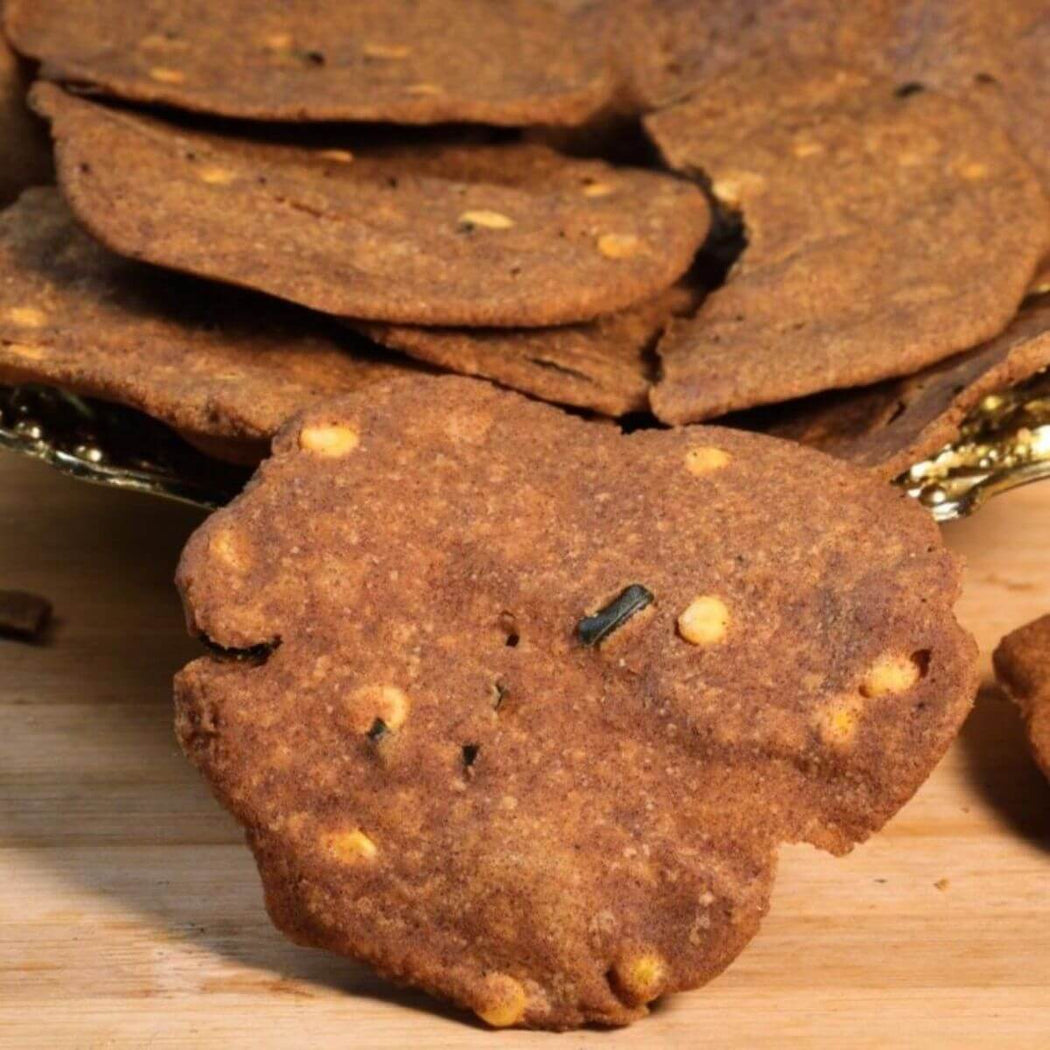 Kuthiraivali (Barnyard Millet) Pepper Peanut Thattai
Ingredients: Barniyad Flour, Rice Flour, Urud Dall Flour, Roasted Gram Flour, Asafoetida, White Sesame, Cumin Seeds, Salt, Raw Peanut, Curry Leaves, Refined Sunflower Oil.

Shelf Life: 30 Days

Allergen Info: White Seeds, Peanut

How To Eat: Ready to Eat

How To Store: Store it in dry place inside an air tight container or ziplock bags to retain its crunchy taste

Location: Chennai, Tamilnadu
Kuthiraivali and Peanut Thattai are healthy snack options, while also highly nutritious. Made using the best quality ingredients, Barnyard flour, Rice flour, Urad dal Flour, Roasted Gram Flour, Salt, Asafoetida,  White Sesame, Jeera, Raw peanut, Curry leaves, Oil. It can be taken on long journeys and travels as an ideal snack for kids and adults. Barnyard millet and peanut thattai contain all essential nutrients required by the body, like protein, carbohydrates and iron in the form of millet.
As an option for those seeking to maintain their diet, or as an alternative to our regular thattai, we are proud to provide Kuthiraivali and pepper peanut thattai. Made of 100% millet and peanuts without any additives, these grams can be consumed as a healthy snack any time of the day.
This is the healthy snack option and booster. Barnyard millet is a whole grain and contains protein, fibre, vitamins and minerals. One serving of barnyard millet contains five grams of protein. This snack comes in airtight packaging to preserve the goodness of the product. The daily consumption of this snacking option can increase your heart health quotient and help you lose weight as well. It can also be used as a great option for pregnant women and growing children too.
An all-new snack, Barnyard millet and peanut thattai a delicious mix of millet and peanuts.  It is nutritious, high in protein and dietary fibre, making it the perfect on-the-go product. And since it is an all-natural product, this snack is a gluten-free treat! Order now at Snackative online store. We also provide other healthy snack options like Kambu kara Sev, Masala Peanut Pakoda, Ragi Olai Pakoda etc.
Nice
I am happy to receive the products. I have tasted Kuthiraivali pepper peanut thattai and it was really good. My children liked it.
Tasthy
I loved the product. So crunchy, tasty and healthy.
Nice
Quantity wise less quality wise superb
Healthy product
Thank you for such a wonderful product.
crisp
I have tried the kuthiraivali thattai. It was very delicious and crispy. I loved the taste.