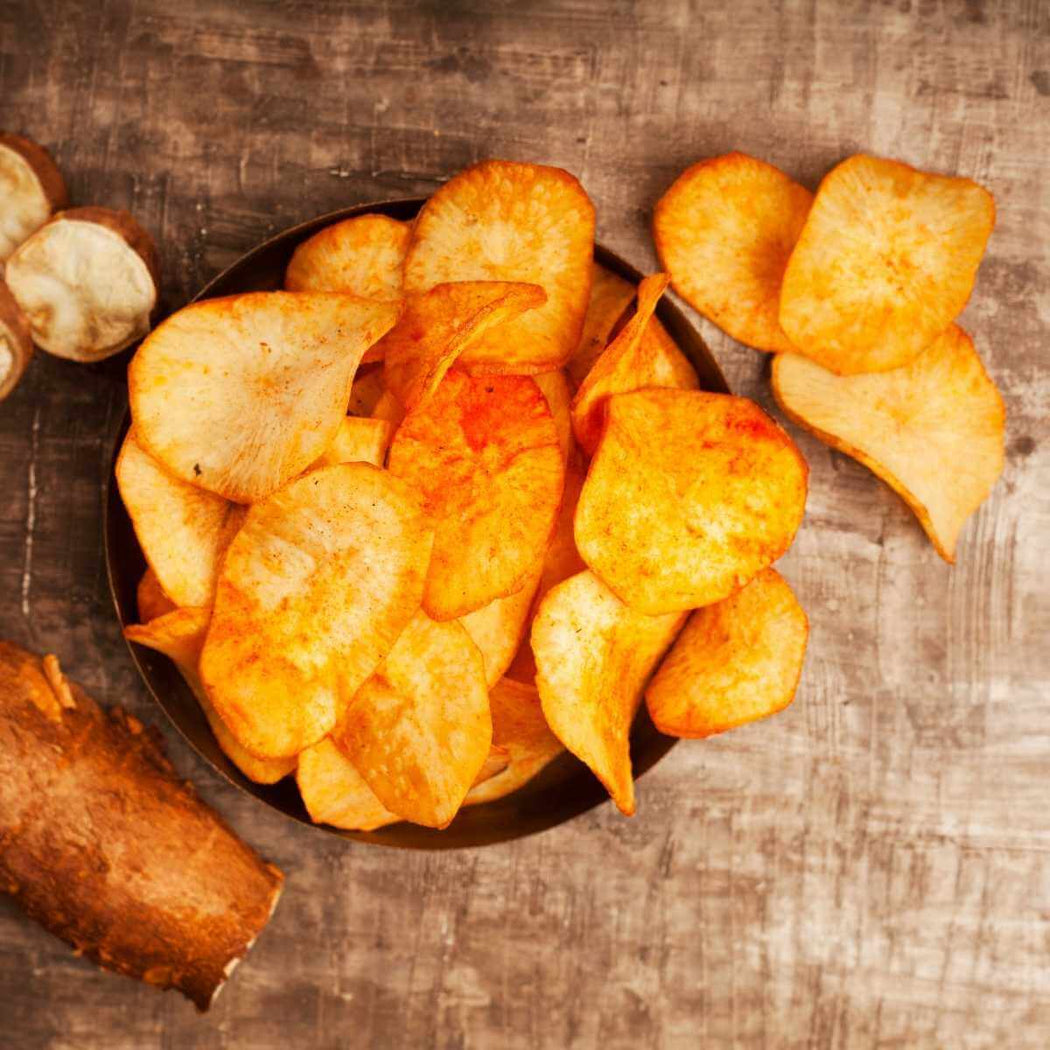 "To get BOGO 80% OFF, Add to Cart two (2) qty of this product. Your 80% OFF offer will be automatically applied at checkout, no coupon needed"
Buy tapioca chips online from Snackative in USA.  Tapioca /Maravalli Kizhangu/kappa chips are made from tapioca, which many of us refer to as cassava plant roots. This root is cultivated in various places of South India and is a staple meal. Tapioca root wafers are fried in coconut oil, salted, and frequently seasoned. Although it is high in carbohydrates, it is a crispy and pleasant snack. The chips are crunchier than those made from bananas or potatoes.
Tapioca chips prices are reasonable, and if you have a taste for it, you can always purchase it online.
In the United States of America, tapioca chips are made and sold in a variety of ways. Among all of these firms, Snackative is essential in sourcing high-quality products from their original natives and delivering them to the needy. You can get tapioca chips online from Snackative by simply adding this item to your cart and proceeding to checkout.
Apart from any other considerations. The items are unique in the following ways:
100% Vegetarian

To prepare, fresh oil is used. There will be no reclaimed oil.

Tapioca is grown naturally and prepared in a sanitary atmosphere.

The hygiene procedure adheres to the strictest safety standards.
Excellent snack product from Kanchipuram. Less oil is used, it is raw, it tastes fantastic, and it is crispy. Traditional foods are a true emblem and embodiment of health wisdom.
Visit our snackative online store to see our other healthy snack options like Pepper kambu murukku, kuthiraivali olai ribbon pakoda , Kambu kara sev, Kambu murukku etc.,
Disclaimer:
While the product name specifies the origin of this product, it could also be manufactured and distributed by shops across Tamilnadu.
Fresh
5 star, taste good and fresh
Awesome cassava chips
Very happy in the manner my whole order was processed and sent and it arrived in 4 days and amazing packing and informing that order is sent via DHL
Awesome Taste
I placed an order for my fifth package from the same brand .
As always, these are extremely fresh and crispy.
Excellent value for money. Thanks snackative.👍
Delicious Tapioca chips
The chips were quite fresh and delicious. The quality of the oil is also excellent.
Good stuff, little pricey, but well worth it.