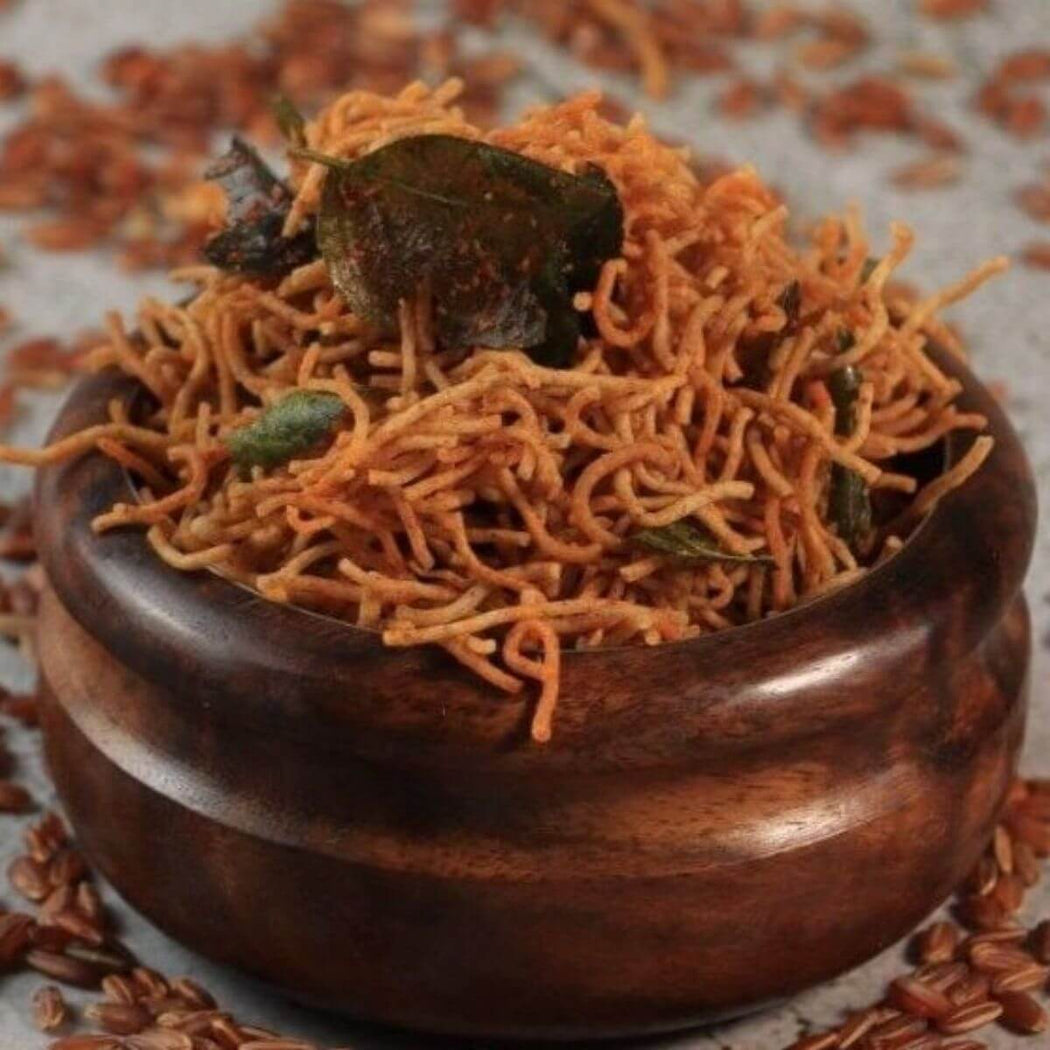 Sigappu Arisi (Red Rice) Omapodi
Ingredients: Red Rice (Sigapuarasi) Flour, Rice Flour, Gram Flour, Roasted Gram Flour, Urad Dhal Flour,Curry Leaf, Asafoetida, Chilly Powder, Chat Masala, Refined Sunflower Oil, Salt

Shelve Life : 30 Days

Allergen Info: None
How To Eat: Ready to Eat

How To Store: Store it in dry place inside an air tight container or ziplock bags to retain its crunchy taste

Location: Chennai, Tamilnadu

Sigappu Arisi Omapodi  is one of the healthiest snacks that you can have on the go. Red Rice Omapodi is high in dietary fibres, which boosts the process of digestion and improves your body's metabolism. Also, being primarily made of rice, it is easy to digest compared to other snacks. It helps lose extra fat and also prevents blood sugar levels from rising too quickly. It also contains no preservatives, artificial ingredients.
For centuries, red rice has been used as a healthy food. It is high in fibre and nutrients, yet low in calories. Our Sigappu Arisi Omapodi is great as a snack on the go or used to add healthy flavours to salads, oatmeal, yoghurt, or smoothies.
 Open the door to India with this packet of healthy, crunchy red rice. Accessorized with Red Rice (Sigapuarasi) Flour, Rice Flour, Gram Flour, Roasted Gram Flour, Urad Dhal Flour, Curry Leaf, Asafoetida, Refined Oil, Salt, Chilly power, Chat Masala., this pop snack is great for sharing instead of chips. Enjoy our Red Rice Omapodi at parties or solo in the office or dorm. A healthy snack that packs a punch? You're still at home in India.
  You love snacks and you're busy. Simple ingredients, a perfect pairing, easy preparation. The whole family loves it and you can feel good about enjoying healthy snacking convenience.
Not only is it a delicious treat, but Omapodi is also a superfood packed with all kinds of health benefits and nutrients. And what better way to create a snack than as an Indian-style namkeen? No artificial colours or flavours are used in the production of our podi, so enjoy it gluten-free!
Buy a Red Rice Omapodi pack from Snackative and debate with your siblings over whose groundnuts have the best flavour! Additionally, you can purchase different healthy snack choices like as Kuthiraivali Pepper Peanut Thattai, Ragi Mixture etc