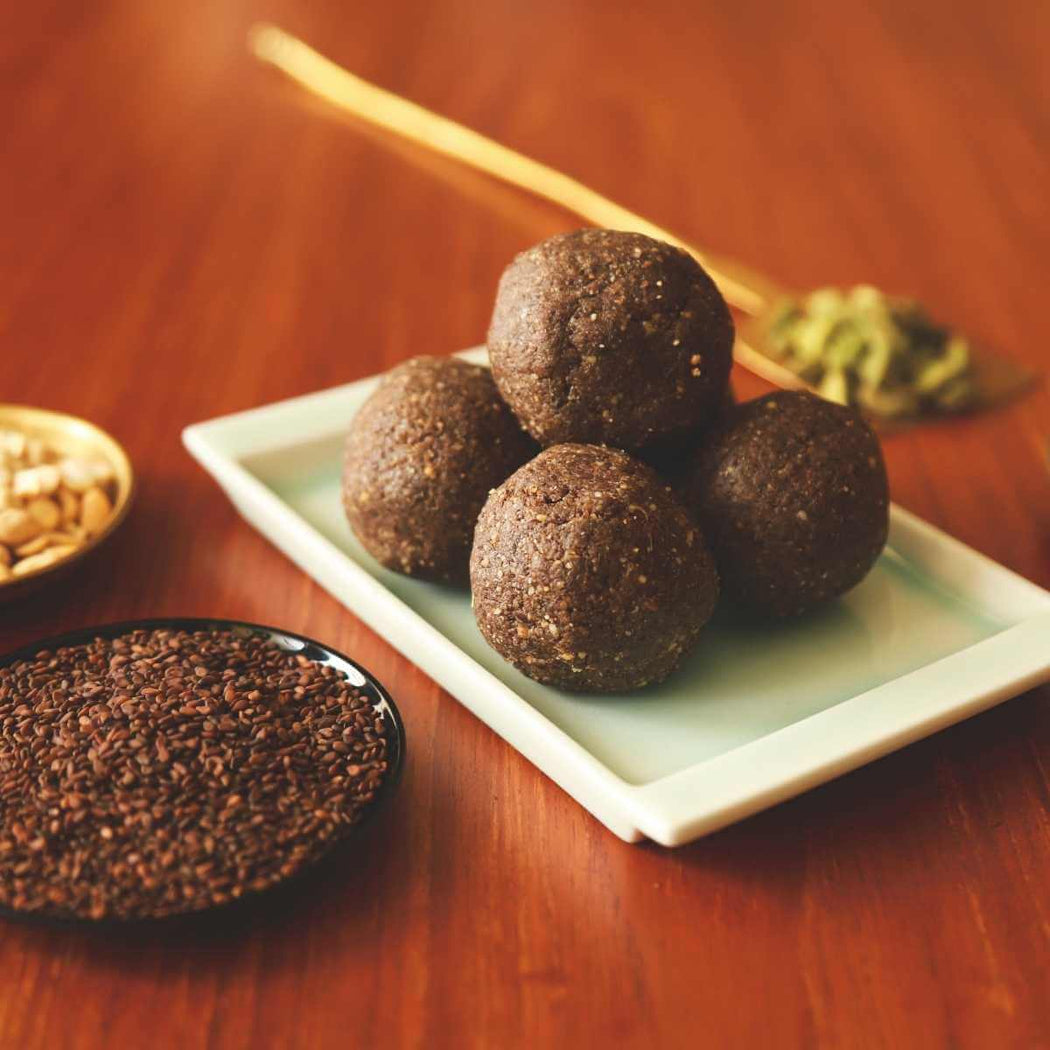 Roasted Sesame Peanut Jaggery Laddu
Ingredients: Roasted Sesame Seeds, Peanut, Jaggery & Cardamom
Shelf Life: 30 Days
Allergen Info: Sesame Seeds, Peanuts

How To Eat: Ready to Eat

How To Store: Store it in a cool and dry place inside an air tight container to retain its texture and increase its shelve life

Location: Chennai, Tamilnadu

Roasted Sesame Peanut Jaggery Laddu is one of the most popular sweets in India and it has a very good health benefit too. It's a vegan and gluten-free sweet which is satisfying and healthy. Our Roasted sesame peanut jaggery laddu is a healthy sweet treat with the added goodness of sesame, jaggery and peanut.
The sweet is made with Roasted Sesame Seeds, Peanut, Jaggery & Cardamom. Jaggery is an unrefined sugar that is dry in texture and has a rich taste. Aside from providing a wholesome taste to the candy, these ingredients also provide you with many health benefits like improving your cardiovascular health and allowing you to live a long healthy life.
One of the Best Snacks for Everyone!
A traditional Indian sweet made with roasted peanuts, sesame seeds and jaggery all rolled into one delicious ball! It gives you the sweetness of jaggery and the crunchiness of roasted peanuts all in one hand - treats that is not only tasty but healthy too.
Sesame and peanuts add energy to the body while Jaggery sweetens it. Jaggery is a healthy sweetener, which has many medicinal properties. This Laddu will refresh and stimulate you and makes your journey more cheerful.
Sweetened with jaggery, peanuts and roasted sesame seeds, these tasty laddus are a healthy snack that's a great source of calcium, iron and phosphorous. Peanuts are a good source of proteins and minerals, while roasted sesame seeds help with digestion. This is the ideal combination for diabetics as jaggery contains naturally less glucose.
These sugar-free Laddu snacks are a great option whether you're in the need of something sweet, or if you're looking to give a healthy gift to a friend! Order this Sesame Peanut Jaggery Laddu through Snackative and we'll ship it right to your door!
Try our Sugar-Free healthy sweets choice like Coco Walnut Burfi, Beetroot and Cashews Mysore Pak if you're a sweets lover and a health freak.
Yummy Laddoos
Roasted Sesame peanut jaggery laddu was .awesome, Thank You
Awesome
Thanks for the lovely laddus, my family enjoyed them, tasted awesome :)
Good Service
I wanted to say that I love your website. It's very user friendly, and the packaging is great. I will be ordering from you more often!
Addictive
I can't stop eating it .It's very tasty and so addictive.
The texture and flavor of the sesame seeds were amazing and it wasn't overly sweet like most snacks like this are.