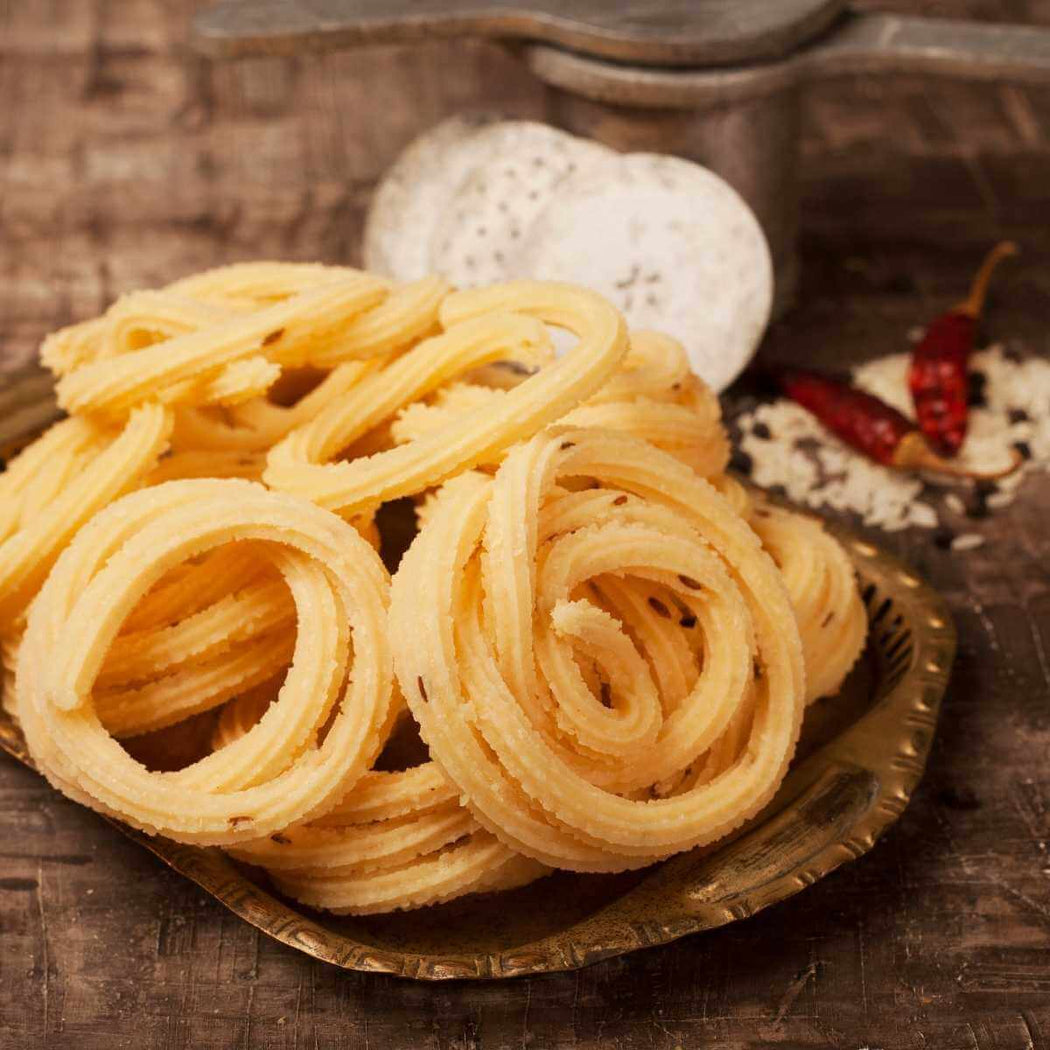 Ingredients: Rice Flour, Roasted Moong Dal Flour, Softened Butter, Black Sesame Seeds, Salt

Shelve Life: 30 Days

Allergen Info: Black Sesame Seeds, Softened Butter

How To Eat: Ready to eat

How To Store: Store it in dry place inside an air tight container or ziplock bags to retain its crunchy taste

Location: Chennai, Tamilnadu
This classic murukku recipe, which includes dal flour and coconut milk for added flavour, is called Magizhampoo Murukku. There are several more names for it, including Mullu Murukku and Magilampoo Thenkuzhal.
A flower named Magizhampoo is the inspiration for the design of this murukku. Magichampoo murukku is distinguished by the inclusion of moong dal flour, sugar candies (Kalkandu), and coconut milk. To prepare this extruded food, you'll need a murukku acchhu or a murukku maker. Traditionally, Mullu Murukku is a south Indian food that is cooked for festivals such as Krishna Janmashtami, Diwali, and other celebrations. Mullu murukku is prepared a few days before Diwali by family members who come together with grandmother during the festive season. Other sweets and nibbles will be distributed to neighbours and family members as well.
Numerous people enjoy having this crispy and aromatic snack throughout their evening tea time and on long car travels.
Throughout India's southern states, this particular food is extremely popular. Unlike other typical Kai murukku, this one contains additional spikes (which look like thorns in Tamil and are called mullu in English), which may be produced using star moulds (murukku achu). As a result, mullu muruku is the name given to it. Try this delectable cuisine by order this Magilampoo muruku online in the USA.
If you enjoy traditional snacks like Keezha eral mixture, Ragi mixture you might also love visiting @ snackative.
Very good
Taste was so good and it was super fresh.
Definitely going to order it again.
fresh
the murukku was fresh! a little over priced though!
Murukku very tasty
The package arrived within 5 days , fresh crisp and packets with full murukku not broken to pieces. Would love to order again and recommend it
Chennai Magilampoo Murukku
It is a good quality snack item for adults as well as kids. The price is somewhat expensive.