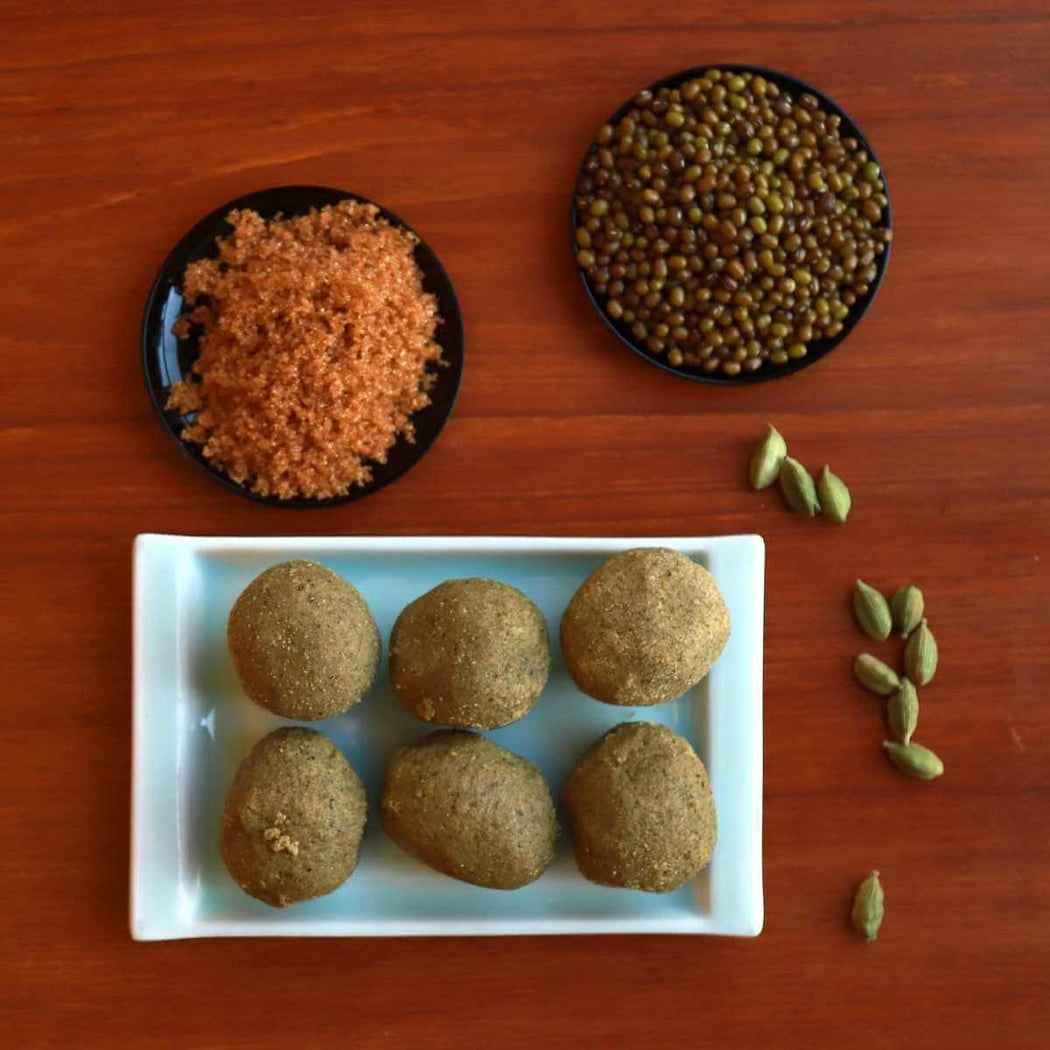 Green Moong Dal/Pasi Paruppu Laddu
Ingredients: Geen Gram Dal, Brown Sugar, Jaggery, Milk Powder, Cardamom Powder, Ghee

Shelf Life: 20 Days

Allergen Info: Milk Power, Dairy

How To Eat: Ready to Eat

How To Store: Store it in a cool and dry place inside an air tight container to retain its texture and increase its shelve life

Location: Chennai, Tamilnadu
"Green Moong dal laddu", also known as "Pasi Paruppu laddu", is a traditional Indian treat made by Geen Gram Dall, Brown Sugar, Jaggery, Milk Powder, Cardamom Powder, Ghee and rolling it into spherical small fudge balls called Ladoo or Laddu. Shop Moong Dal Ladoo online from Snackative. These ladoos are prepared with fully natural, no artificial colour, no preservations, no white sugar.  We substitute sugar for jaggery and all of our ladoos are prepared with great care. The richness of real desi ghee and the absence of sugar make this a guilt-free snack. Moong dal is a protein-rich food that can help you lose weight.
When it comes to pulses, moong dal is the lighter and most nutritionally dense because of its high concentration of micronutrients, vitamins, and proteins. It's a guilt-free treat.  Premium dal and pure desi ghee go into this sweet treat, which makes it a delicious addition to any celebration. It's the ideal premium treat for special occasions, festivities, and even serving visitors. It's a ghee-based snack that uses no oil at all.
When ordering an evening snack, why not go for a Moong Dal Laddu?
This is a great mid-meal option for people of all ages. It keeps you full till dinner and keeps you from overeating. It gives you energy and stamina for the rest of the day. Acidic people should consume smaller meals more frequently. However, it is not always possible to prepare a meal. Pre-made, home-cooked meals are therefore preferable, correct? Get a fresh pack of Green Moong Dal Laddu from Snackative and keep it on hand at work and at home to satisfy your appetite on the spur of the moment.
Additionally, you may enjoy healthy options like Cashewnut Pakoda, Kaju Karupatti Kathli, Carrot Dates Mysore Pak, Kaju Kappi Katli.
Raagi laddu is not same as the one we received last time.
Yummy
I tried the moong dal ladoo and I love it. I am on a diet and this is so good and healthy.
Healthy Pick
I think this is a great way to start your day and the best part is it is healthy.
Can be little bit sweeter