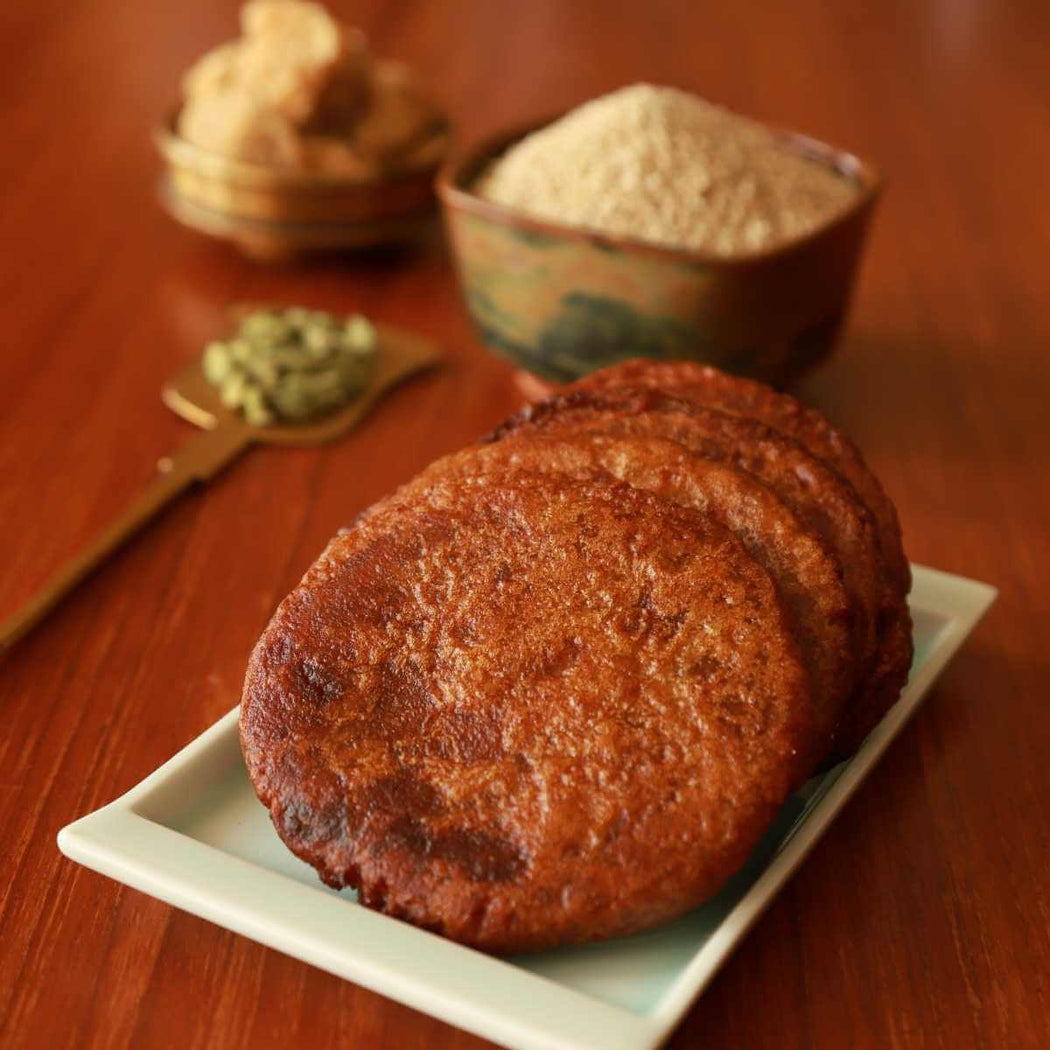 Varagu (Kodo Millet) Athirasam
Ingredients: Kodo (Varagu) Rice, Jaggery, Cardamom, Ghee, Refined Sunflower Oil

Shelf Life: 20 Days

Allergen Info: Dairy

How To Eat: Serve it warn

How To Store: Store it in a cool and dry place inside an air tight container to retain its texture and increase its shelve life

Location: Chennai, Tamilnadu

Fresh and crispy Varagu Athirasam made from Kodo Millet is a really healthy, nutritious snack. With its Mediterranean style, it brings a healthy flavour to your snack list. 
Varagu Athirasam, the wholesome organic snack made from organic Kodo millet is absolutely healthy for your entire family to enjoy. Consuming Kodo Millet in this form will definitely help in having a healthier lifestyle. It is also very easy to carry and travel within your bag pack while you are on the move in the city always.
Varagu is a healthy and delicious snack. It is made from Organic Millets which provides all the goodness to the body and it is Tasty and crunchy as well as good for health. It can be eaten as an Athirasam for an evening snack or just to relieve stress. 
Open a new world of taste with Varagu Athirasam, the healthy snack made of Indian Kodo Millet flour. With no oil or spice, this delicious, crunchy snack can be enjoyed by kids and adults alike. It has been found to help in digestion, boost immunity and is high in calcium, vitamins and fibers. You can grab a pack from our Snackative online store.
Varagu Athirasam is a healthy snack with, zero refined sugar and zero preservatives, ideal for weight watchers and diabetics buy this delicious Varagu Athirasam and other Healthy snacks and sweets from Snackative online Store.
Mostly good!
Except few items (like Chandrakala), everything else was good.
Ok
I thought it was just ok.
Like it
Delicious snacks, I'm very happy with the order. It was very convenient to order from the site. The snacks came quickly. I liked the smell. Good packaging, everything is well packed, nothing has spilled out.
Yummy
We were looking for a healthier option than the usual snacks, and we tried these. They are delicious! We are very happy with these products.