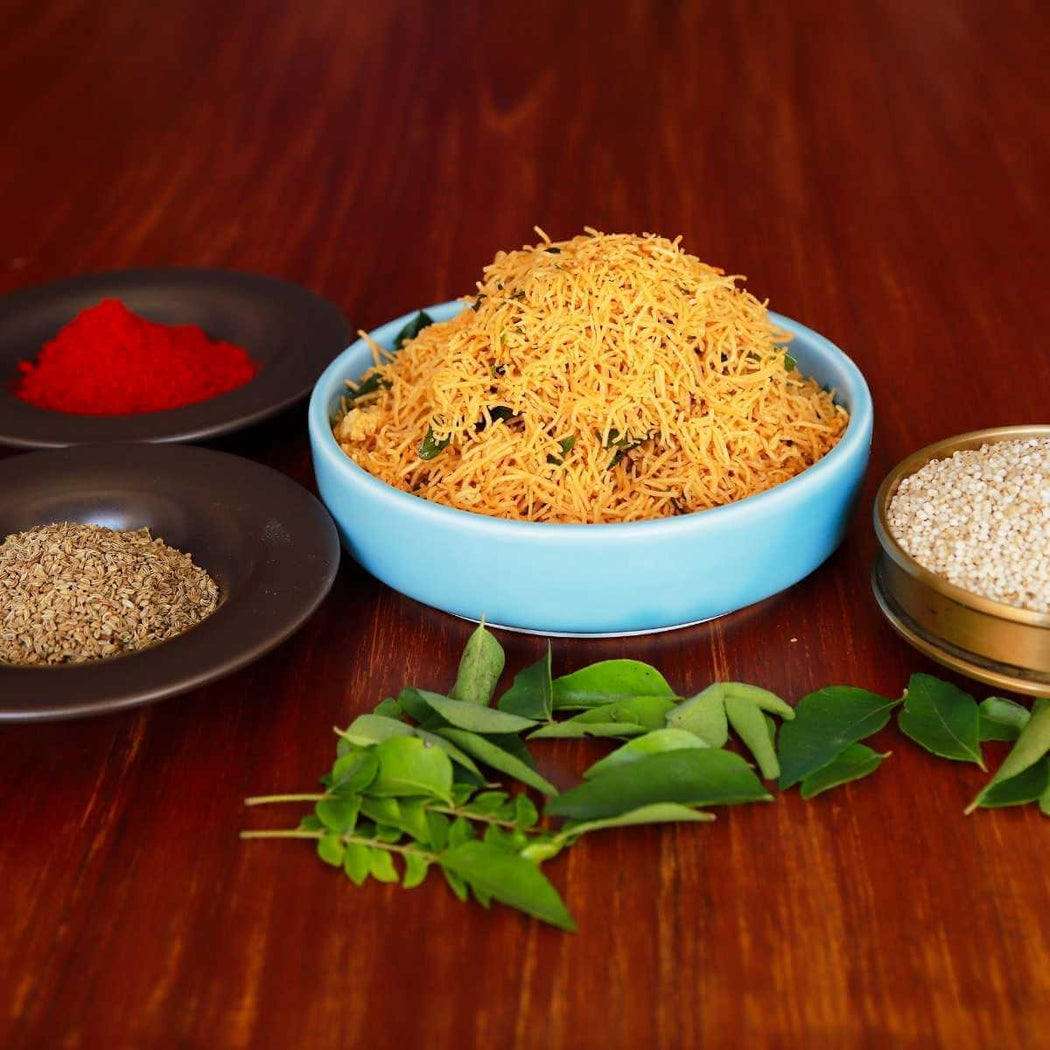 Varagu (Kodo Millet) Oma Podi
Ingredients: Kodo Millet (Varagu) Flour, Rice Flour, Gram Flour, Roasted Gram Flour, Urad Dhal Flour,Curry Leaf, Chilli Powder, Asafoetida, Refined Sunflower Oil, Salt.

Shelf Life: 30 Days

Allergen Info: None
How To Eat: Ready to Eat

How To Store: Store it in dry place inside an air tight container or ziplock bags to retain its crunchy taste

Location: Chennai, Tamilnadu
Varagu(Kodo Millet)Oma Podi is a healthy, traditional Indian snack. It's made by(Varagu) Flour, Rice Flour, Gram Flour, Roasted Gram Flour, Urad Dhal Flour, Curry Leaf, Asafoetida, Refined Oil, Salt. Although you can eat it at any time of day, it is perfect for filling that mid-morning or afternoon hunger pang.
Varagu Oma Podi is a healthy and tasty variant of most commercially available snacks like chips and cashew nuts that we normally eat. The most important and the most liked feature is its taste. It is extremely high in fibre, high in protein and low in carbohydrates. It can be eaten even by those who are sensitive to some dals.
Our varagu oma podi is a healthy and flavorful option that will surely be a hit with your family and guests. It is quick to prepare and contains some essential nutrients and more for a healthy and delicious snack option. With recent media attention to the health benefits of pulses, healthier snack options like healthy crackers, chips and even cereal are emerging in the market.
The traditional oma podi snack in innovative packaging. Instant enjoyment anytime. Good for food on the go. It is a healthy snack option that instantly becomes a great companion to any meal. Varagu Oma Podi is a quick and easy snack for any time of the day. Enjoy tasty varagu oma podi with a nice hot cup of coffee. 100% Vegan and 100% Gluten Free with no artificial color, no preservations.
You buy from Snackative for what reason?
The sweets and savoury snacks we offer at Snackative have a special place in our hearts. We go to great lengths to ensure that our customers only receive the best possible product. We provide the best online buying experience at the most affordable price. There are no fakes or counterfeits here. Check out our other healthy options like Ragi Olai Pakoda, Thinai Mul Ribbon Pakoda, Ulundu Laddu etc.