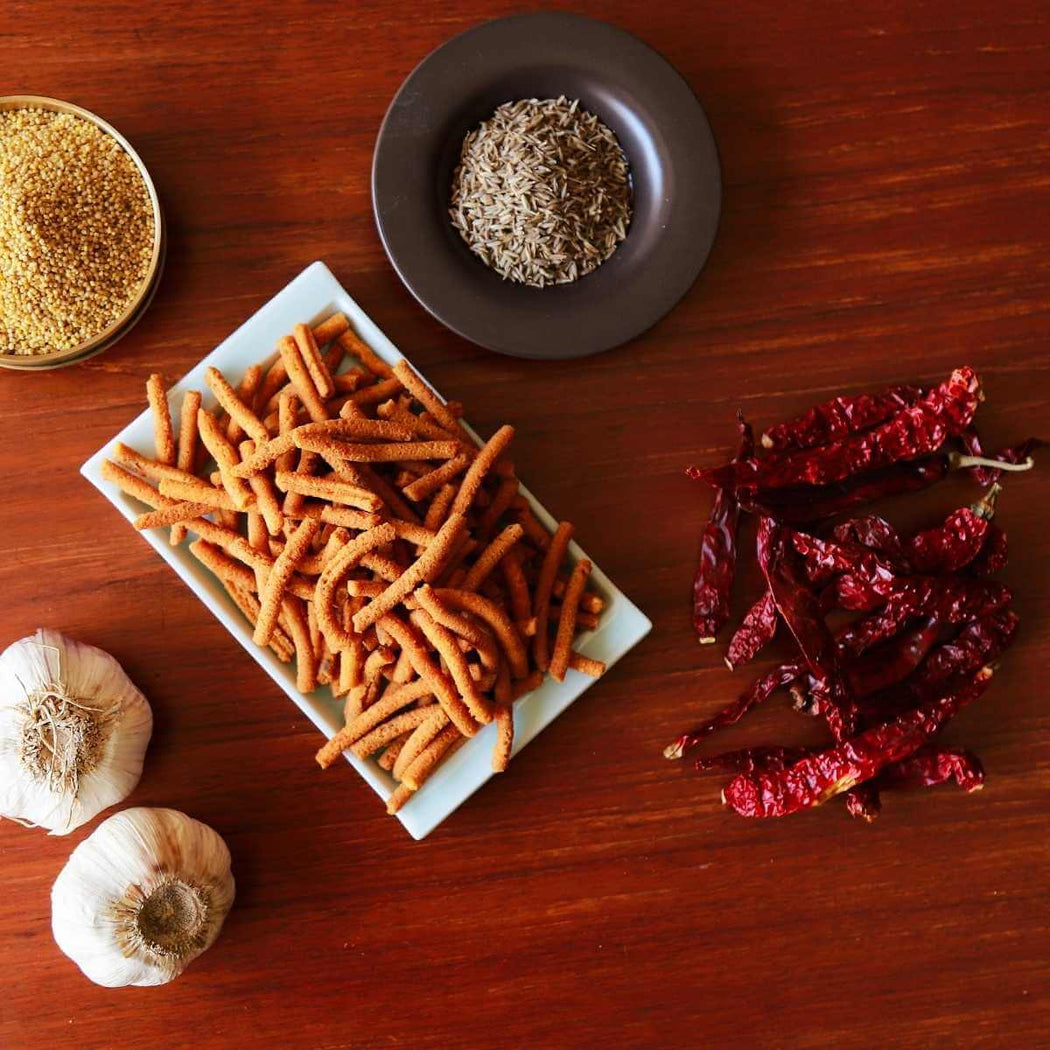 Foxtail Millet (Thinai) Kara Sev
Ingredients: Foxtail Millet Flour, Gram Flour, Garlic, Red Chilli, Asafoetida, Cumin Seeds, Refined Sunflower Oil, Salt

Shelf Life: 30 Days

Allergen Info: Garlic

How To Eat: Ready to Eat
How To Store: Store it in dry place inside an air tight container or ziplock bags to retain its crunchy taste

Location: Chennai, Tamilnadu

"Foxtail Millet(Thinai) Kara Sev" is a healthy snack made from Millet(Thinai) known for its health benefits. It™s a popular South Indian savoury snack made using Foxtail Millet (Thinai) Flour, Rice Flour, Gram Flour, Roasted Gram Flour, Urad Dhal Flour, Garlic, Dried Red Chilli, Asafoetida, Cumin Seeds, Refined Oil, Salt.  It can be enjoyed with Curd Rice or Rasam Rice.
It is a healthy and super delicious snack for all ages. A bowl of Thinai is healthy food for breakfast, energizes the body and enhances immunity, especially the children. Millet also helps to lose weight. Thinai is rich in proteins and minerals. It is an excellent source of energy. It contains iron, fiber, protein and phosphorous. It is rich in B vitamins such as riboflavin and thiamine, which help the body release energy from proteins, carbohydrates and fat.
This snack is made of 100% natural Millet grains and 100% Vegan and 100% Gluten Free and packed with health benefits that include preventing diabetes, promoting weight loss and helping maintain a healthy heart. In India, this snack is an integral part of traditional snacks, also popular in Tamilnadu, Kerala and Karnataka. It is a favourite of athletes and great health food. Millets are considered ideal for people suffering from diabetes or high blood pressure.Make an order with snackative to try this tasty and nutritious snack option.
In addition to this, you'll find other classic treats such as Varagu Ribbon Pakoda, Ragi Olai Pakoda, Pottu Kadalai Laddu