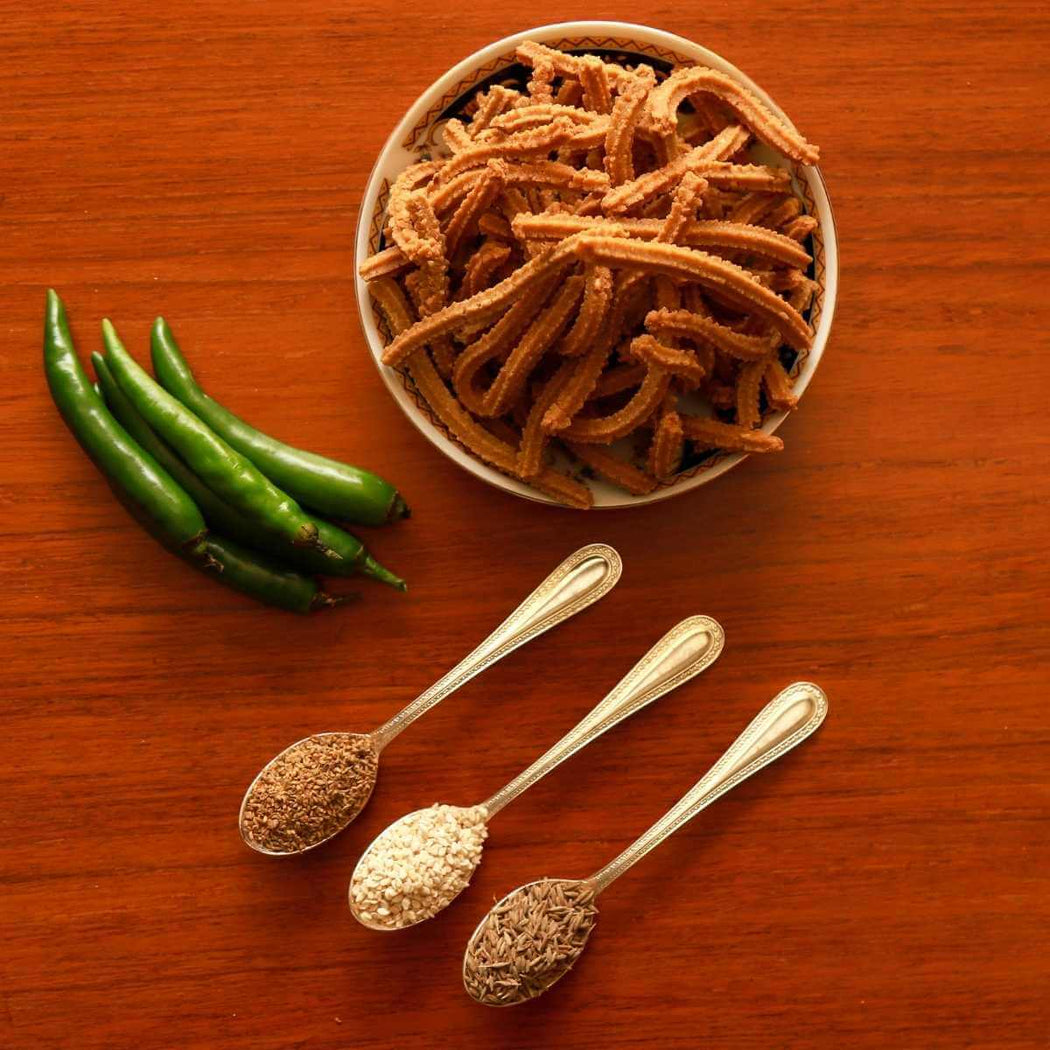 Chollam (Great Millet) Mullu Murukku
Ingredients: Great Millet (Chollam) Flour, Rice Flour, Gram Flour, Roasted Gram Flour, Urad Dhal Flour, Asafoetida, Cumin Seeds, Green Chilli, Refined Sunflower Oil, Salt

Shelf Life: 30 Days

Allergen Info: None
How To Eat  : Ready to Eat

How To Store: Store it in dry place inside an air tight container or ziplock bags to retain its crunchy taste

Location: Chennai, Tamilnadu

 Are you looking for a tasty and nutritious tea time snack? A classic South Indian snack made using Cholam Maavu is "Chollam Mullu Murukku". Introducing Cholam Millet Mullu Murukku, a crunchy, savoury snack. Use snackative.com to place an order online.
Mullu Murukku, a favourite snack in India, is available in a variety of shapes. The Chollam Mullu Murukku, a traditional snack made with Great Millet flour, retains its crunch without sacrificing flavour or authenticity. Purchase tasty millet murukku on online (Premium Quality). 
Murukku is unquestionably one of India's most popular snacks. Muruku will always be there at any festive gathering, serving as a complement to the conversation that will help pass the time!
Every bite tells a story: This is the traditional food that embodies our Tamil culture. In order to make Muruku, we use only the best ingredients. Reminisce over the tray of treats you received from your granny as you eat these real goodies.
To enjoy with your evening tea or coffee, these are ideal. It is possible to utilise them in a conversation to add flavour or personalise it to your desire. As an alternative for serving guests, it's a good one. This Muruku from Snackative will remind you of your grandmother's love every time you eat a piece. Throughout the year, we proudly proclaim that it is the only snack that is both nutritious and delicious.
Try our other Millet varieties here.