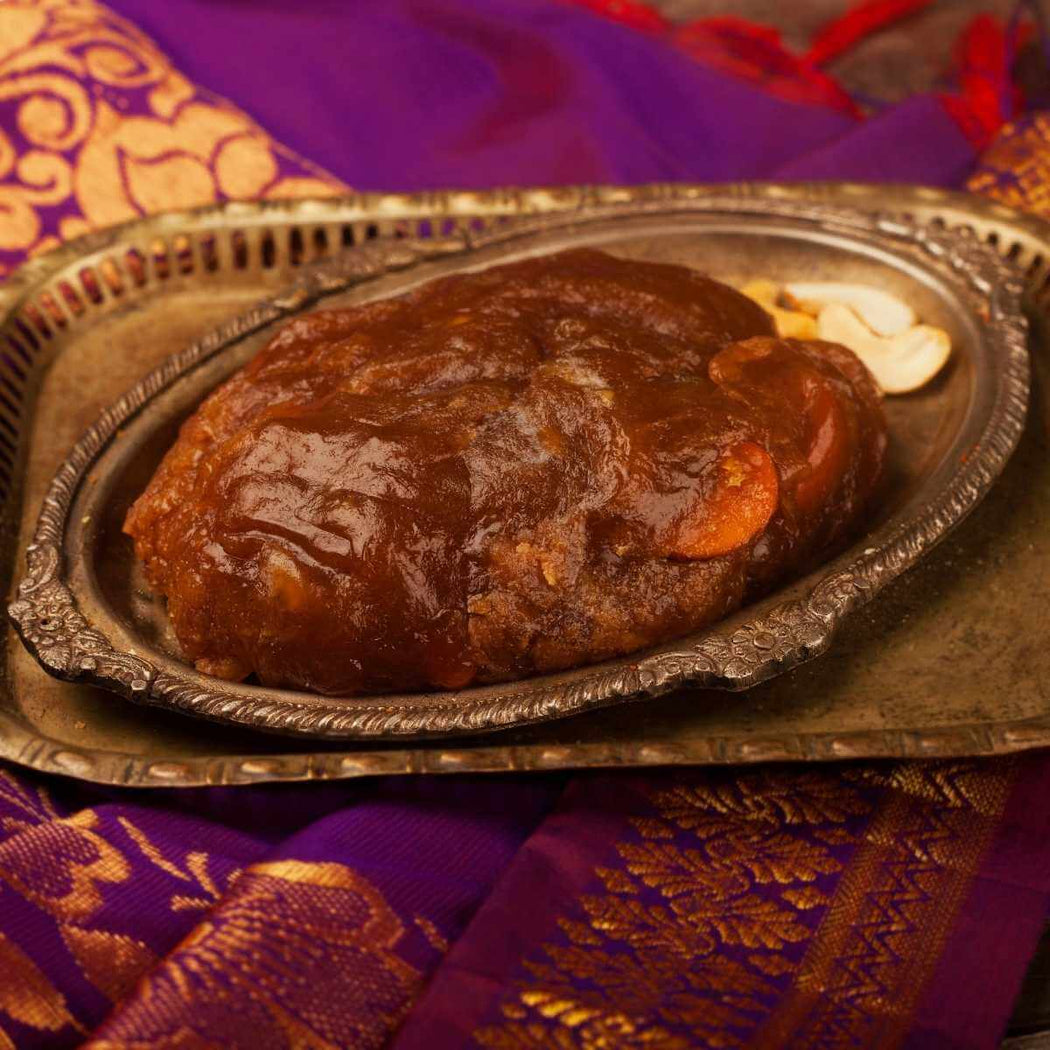 "To get BOGO 80% OFF, Add to Cart two (2) qty of this product. Your 80% OFF offer will be automatically applied at checkout, no coupon needed"
Tirunelveli halwa is one of the famous Sweets in India and remains a disagreeable fact that the uniqueness in taste could be mainly attributed to Thamirabarani sweet waters. This sweet is made from crushed juice taken out from well-soaked fresh wheat berries.

It needs to be soaked well and boiled properly for the best taste, the other important process is stirring of halwa. While machinery crushing and stirring were introduced by many shops for bulk production, legacy shops follow traditional and tedious manual stirring to date for maintaining the original taste for decades.
What makes halwa different in Thirunelveli from other cities?
Tirunelveli halwa is prepared in the traditional way by using pure ghee, and wheat milk. The best part of the preparation is that there are no machines used in extracting or squeezing the milk from wheat and ghee.
The milk procured for the preparation is always fresh and original because it is collected from the local farmers who grow cattle in their homes. The unique look is the crispy layer or coating on the halwa the next day. This type of coating can not be found in any other halwa. This type of halwa is known for its great taste. Any visitor who visits Nellai City would hear about its unique taste and that you can get Halwa from the nearby shops. 
With snackative, you can now enjoy the original flavour of Tirunelveli District's beloved Halwa by placing an order online in USA. You may also get our other delectable sweets like Kovilpatti kadalai mittai, Karaikudi plum cake, and Nellai karupatti Ghee Mysore Pak by visiting the Snackative online store.
My order for Iruttukadai halva
Tastes good, but not what I had expected
My order for Iruttukadai halva
Came on time as promised. The items are little too pricy, but once a year may be I can swallow it. Only the hlava was price almost right., but other snacks are not
Great taste
Punctual, great packaging, great taste.
I ordered Iruttukadai halwa, Karupatti Badhusa , Carrot Beetroot Halwa all sweets are very nice Quality and tasty too. Thank you snackative for quality products.