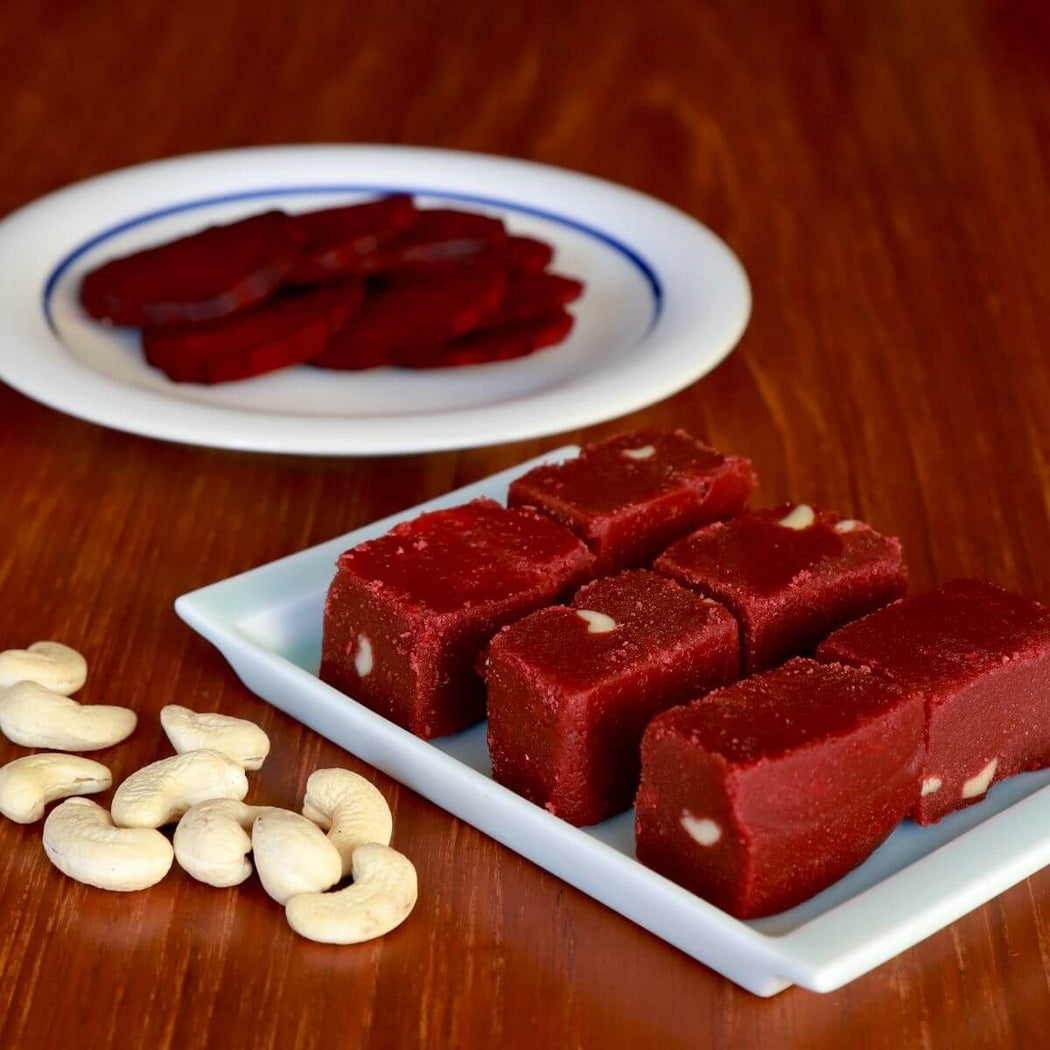 Beetroot & Cashews Mysore Pak
Ingredients: Fresh Beetroot Juice, Gram Flour, Jaggery, Brown Sugar, Ghee, Refined Sunflower Oil, Cashewnut

Shelf Life: 15 Days

Allergen Info: Dairy

How To Eat: Serve it warn

How To Store: Store it in a cool and dry place inside an air tight container to retain its texture and increase its shelve life

Location: Chennai, Tamilnadu
Mysore Pak is one of the most famous sweets in India. Rich creamy texture with peanuts, nuts and raisins gives an exotic flavour to this sweet. This rich South Indian delicacy is called Mysore Pak because it originated in the city of Mysore.
Beetroot and Cashewnuts Mysore Pak is a sweet cooked with Fresh Beetroot Juice, Gram Flour, Jaggery, Brown Sugar, Ghee, Refined Sunflower Oil, Cashewnut, and Cardamom. A decadent dish for any occasion.

Open a box of Mysore Pak and discover a sweet treat made from a delicious balance of sweet beetroot and cashew nuts.

The unforgettable taste of Mysore Pak is fresh, crunchy beetroots in nutty sweet syrup blended with cashews. It was created for royal families in the princely state of Mysore during the 19th century. A unique combination of ingredients along with the perfect cooking techniques accentuated its flavorful taste and texture. Beetroot and Cashew Mysore Pak were saved for special occasions like birthdays, weddings, and other celebrations.

Serve your loved ones this traditional Mysore Pak that is made out of beetroots, cashew nuts and jaggery. Tastes sweet but has no sugar. It is also vegan and gluten-free. Order now at snackative and enjoy this delicious treat. Try out other South Indian healthy snacks and sweet varieties like Kambu Kara Sev, Coco Walnut Burfi, Thinai Mul Ribbon Pakoda etc.

Nice
The packaging was done really well and it was delivered on time. The order also had some really interesting ingredients which I haven't seen in my usual indian grocery store. I'm definitely going to order again!
Yummy
I'm very happy with the service provided, and have already referred a few people to you. Keep up the good work!