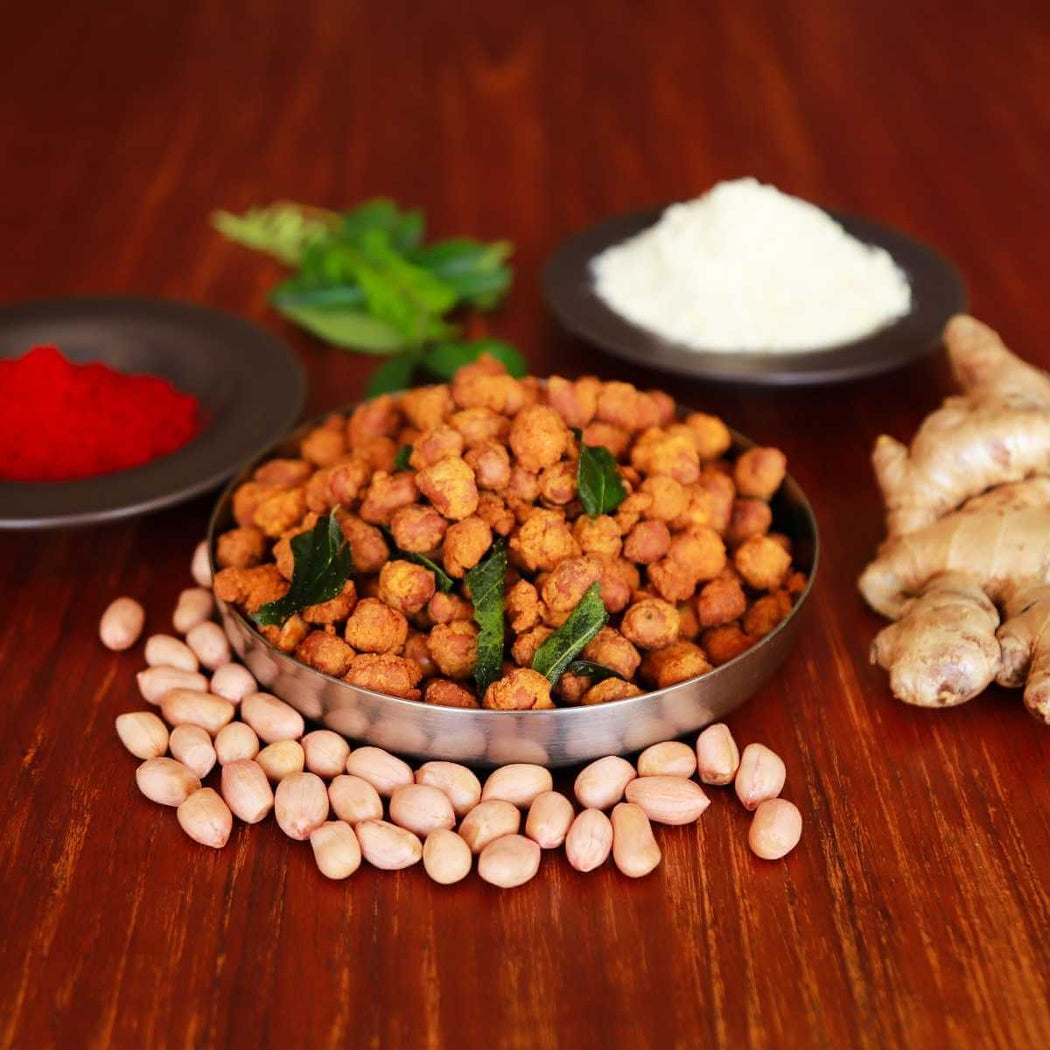 Ingredients: Peanut, Corn Flour, Gram Flour, Rice Flour, Curry Leaf, Red Chilli Powder, Ginger, Refined Sunflower Oil, Salt

Shelf Life: 30 Days

Allergen Info: Peanut, Ginger

How To Eat: Ready to Eat

How To Store: Store it in dry place inside an air tight container or ziplock bags to retain its crunchy taste

Location: Chennai, Tamilnadu
"Masala Peanuts" are a delightful, easy-to-make snack that can be prepared in a jiffy and are really delectable. It is so crisp and crunchy that once you start eating it, you won't be able to stop. So go ahead and order it from Snackative and enjoy it!
A terrific tea time snack, an excellent companion to drinks or simply a nibble for whenever the mood strikes you can be made with these snacks. A delicious snack for any and all events and celebrations. Indian flavours have always been a hit with people's taste buds. Masala kadalai/Masala Peanut is a hot and rich form of fried nuts that is served over rice. They raise the roasted nuts to an extremely delectable snack by coating them in a thick and spicy masala mixture. In South India, it is one of the most popular evening snacks, and it is usually enjoyed with a strong cup of coffee or tea.
Masala Kadalai can be purchased online in India. Snackative delivers freshly prepared Masala Kadalai to your doorstep in only a few clicks. Place your order for the Masala Kadalai from the comfort of your own home in USA.
Are Peanuts Good for You?
Peanuts/groundnuts are high in good fats and low in carbohydrates, making them a nutritious snack. 
The high protein and fibre content helps to increase energy levels while also lowering the risk of heart disease and controlling blood sugar levels, among other benefits.
It is high in vitamins such as calcium and potassium, which are beneficial to the health of the muscles and the heart. It also contains vitamins that are beneficial to the brain's health and memory enhancement.
It contains magnesium, which helps to keep blood pressure under control and prevent heart illnesses from developing.
Iron and other nutrients can assist to avoid anaemia and improving metabolism by increasing iron absorption.
You can also purchase our other delectable confections, like  Kuthiraivali Olai Ribbon Pakoda, Cashewnut Pakoda , Mixture ,Kara Sev ,Millet Snacks.
Good Quality
I have sent this to my friends and family and they also like it.
Service is good
I absolutely love this product. I ordered two packs and will be ordering more. The taste is amazing and the texture is just right.
Tastya and Crispy
I m from India and i know this snacks since my childhood days. I really liked the taste. Thank you for making such a tasty snack.
Good one
I ordered masala peanut pakoda and it was yummy.