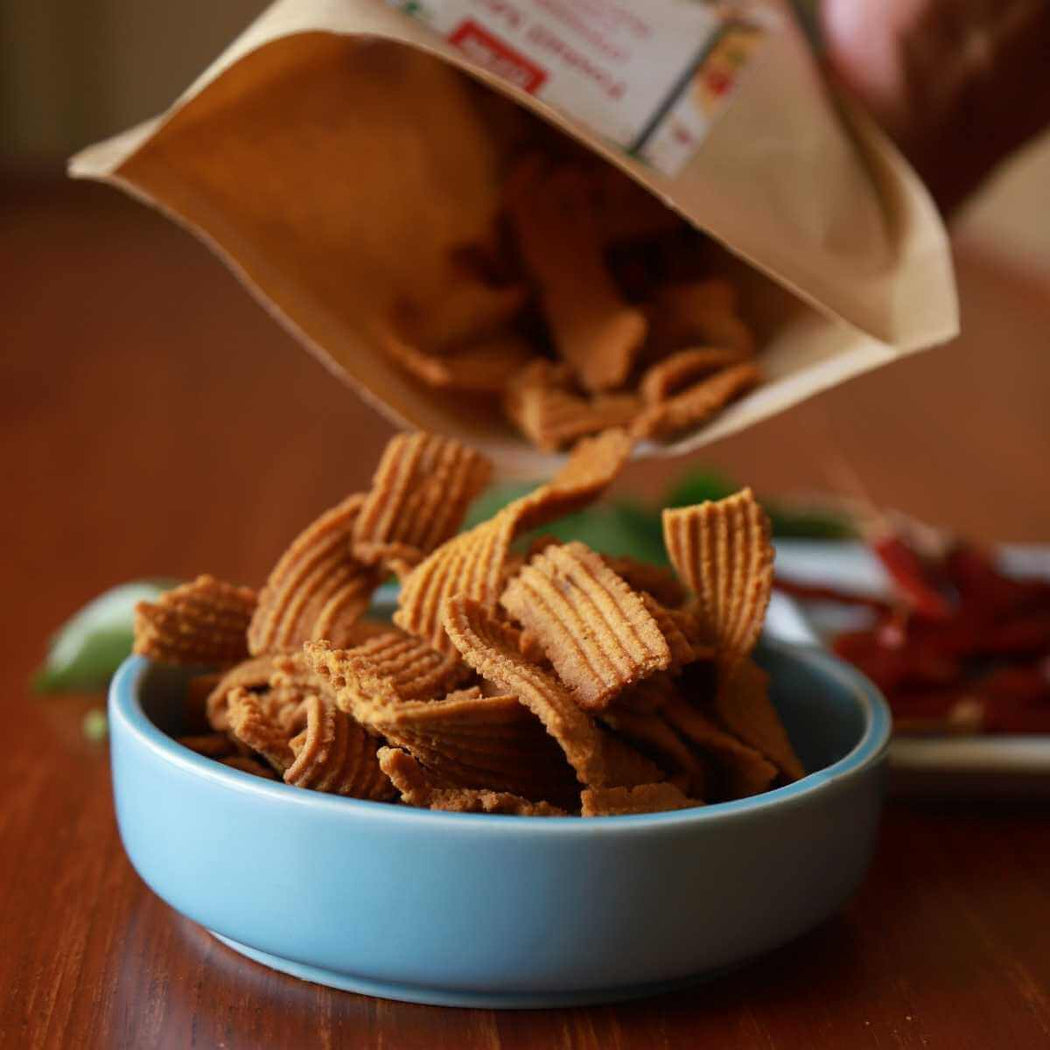 Kuthiraivali (Barnyard Millet) Ola Ribbon Pakoda
Ingredients: Barnyard Millet Flour, Rice Flour, Gram Flour, Roasted Gram Flour, Urad Dhal Flour, Asafoetida, Sesame Seeds, Cumin Seeds, Fresh Coriander, Green Chilli, Fresh Mint, Refined Sunflower Oil, Salt

Shelf Life: 30 Days

Allergen Info: Sesame Seeds, Garlic

How To Eat: Ready to Eat

How To Store: Store it in dry place inside an air tight container or ziplock bags to retain its crunchy taste

Location: Chennai, Tamilnadu

Kuthiraivali Ola Ribbon Pakoda is a spicy and healthy snack that can be savoured with a cup of hot tea or coffee. It is also prepared on certain occasions such as Deepavali, Sri Krishna Jayanthi, and so on. We have them in stock at our house all of the time for our healthy evening snacks!
This is one of the most delicious snacks for children. In ancient times, all of our ancestors ate this type of healthy rice to maintain a healthy lifestyle; today, however, many of us lead busy lives. Because of this, Snackative delivers this nutritious snack option to your home you can now order online.
It is a great snack for lunch that is both tasty and crisp. A delicious and healthy snack made with fresh kuthiraivali rice flour, and mild spices like chilli powder and cumin, this is a wonderful and nutritious snack. Ola Pakoda, Nada Thenkuzhal, Ottup Pakoda, Ribbon Murukku, and Ribbon Pokkoda are some of the other names for this dish. Snackative offers  Kuthiraivali Ribbon Pakoda for sale online.
In India, Kuthiraivali is quite well-known. This variety of rice is commonly available in India due to its low cost and excellent taste.
It lowers triglyceride levels, which in turn helps lower cholesterol while also keeping blood sugar stable.
It may also be preventing the cardiovascular disease from developing in the first place. The iron in it also aids in the production of more blood, which benefits your cardiovascular system.

These forms of rice are better for those with diabetes because of the lower glycemic index, fewer carbohydrates, and higher dietary fibre content. The glycemic index of Kuthuraivali Rice is lowered because the carbs in the are slowly digested and absorbed.

A high-fibre millet, like Kuthiraivali Rice, is an excellent source of nutrition for the diet. Fibre helps to keep you from gaining weight while also encouraging you to slim down. It's also an anti-obesity food, which is great to know. 
Visit the snackative online store for a wider selection of millet snacks, such as Ellu Saamai Murukku, Andhra Kuthiraivalli ring murukku, Kambu kara Sev, Kambu murukku
Ribbon Pakoda
I love the taste of this kuthiraivali ribbon pakoda. I am a great fan of this pakoda. I have tasted many brands of kuthiraivali pakodas but I like only your pakoda because it is crispy and soft.
awesome
I am not a big fan of kuthiravali, but my mom makes it once in a while and it is a real treat then. But I did not expect this, the taste was awesome and I loved it
Like it
I'm really really impressed with the taste and quality of kuthiraivali ribbon pakoda. All my friends and relatives who had tasted this also liked it very much.