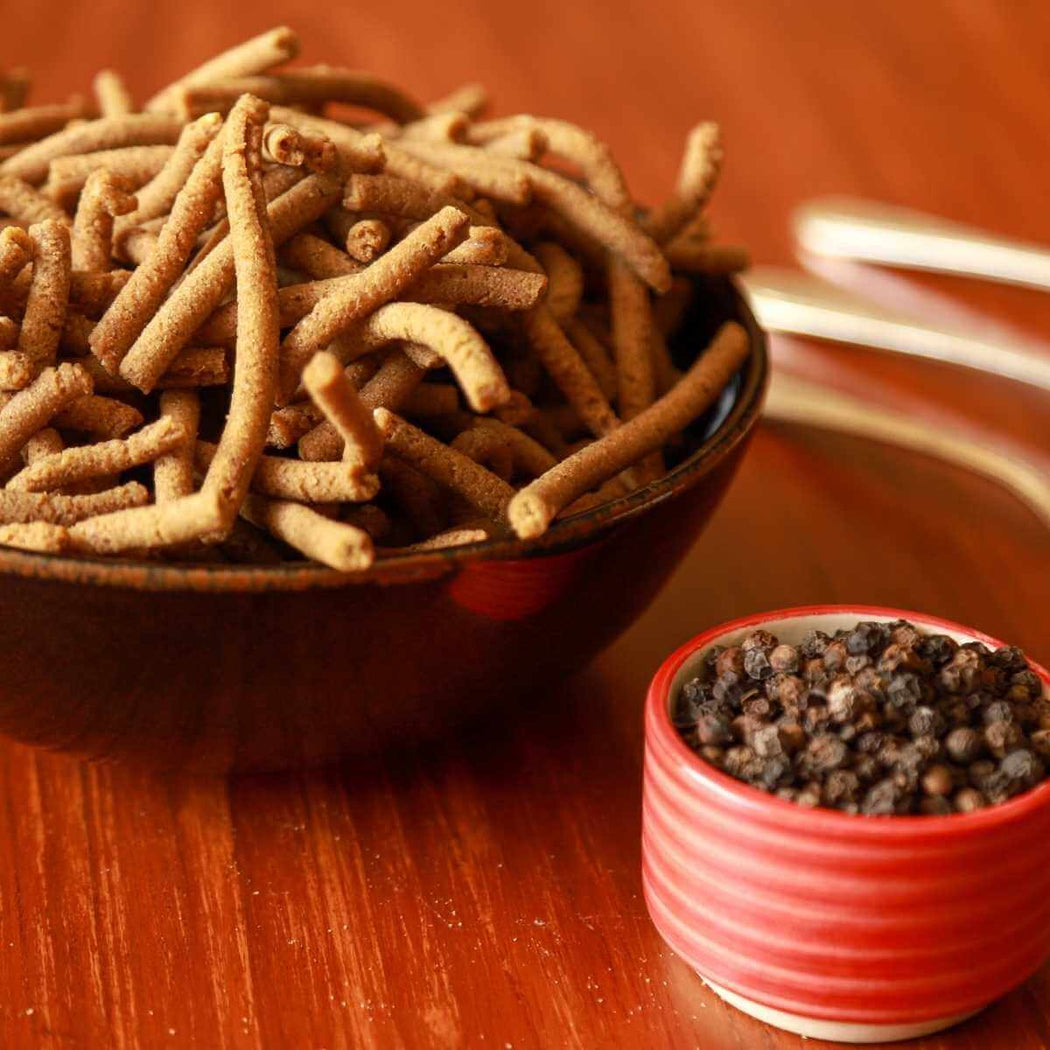 Kambu (Pearl Millet) Kara Sev
Ingredients: Pearl Millet (Kambu) Flour, Rice Flour, Gram Flour, Roasted Gram Flour, Urad Dhal Flour, Asafoetida, Sesame Seeds, Cumin Seeds, Garlic, Black Pepper, Refined Sunflower Oil, Salt

Shelf Life: 30 Days

Allergen Info: Cumin Seeds, Garlic

How To Eat: Ready to Eat

How To Store: Store it in dry place inside an air tight container or ziplock bags to retain its crunchy taste

Location: Chennai, Tamilnadu

Kambu Karasev or Pearl Millet Kara Sev is a popular delicacy that can be found in the most sweet and savoury shops throughout Tamil Nadu. This deep-fried delicacy is particularly popular during festival seasons or as Diwali snacks. Serve this deliciously spicy and crispy snack with a cup of hot tea or coffee!
Each bite of Karasev is infused with the spicy flavour of coarsely ground pepper, which adds to the overall intrigue and enjoyment of the dish. Because of the crunchiness of the sev, the taste of the pepper, and a sip of hot coffee or tea, this is a fantastic evening snack! It is a delicious snack to enjoy with friends and family, especially when served alongside Diwali sweets and treats. Order this snack Online from Snackative and enjoy it right away.
Millets are gaining popularity among health-conscious people due to their numerous health benefits. In Hindi, Kambu is called Bajra, but in English, it is called Pearl Millet. Kambu or Pearl Millet is one of the best foods for your body's nutrition and well being.
Kambu Nutrient Value
It is a high-energy food rich in iron. Kambu has 8 times the iron concentration of rice. Kambu's high iron content helps to improve haemoglobin levels and prevent anaemia. 
It contains magnesium, zinc, manganese, folic acid, amino acids, lecithin, potassium, B vitamins, and calcium. The B vitamin niacin lowers cholesterol, phosphorus is vital for cell formation, and magnesium is vital for heart health. These minerals lower blood pressure.
The high insoluble fibre content assists digestion, proper metabolism, reduces insulin resistance in the body, reduces the chance of diabetes in non-diabetics, millets detoxify the body and enhance immunity.
Take a look at our other healthy snacks options like kuthiraivali ola ribbon pakoda, Andhra kuthiraivalli ring murukku , Murungai Keerai Thinai Murukku , Kambu Kara Boondhi.
Healthy pick
I'm not a big fan of kambu kara sev. But this one is sooo good and tasty. It's also healthy. I'm loving it. This is my second time ordering from them.
Healthy sev
I am such a fan of this product. I love the taste, texture and how healthy it is for you.
Happy purchase
I just finished my first bag of kara sev and was happy to be able to eat the last few pieces without that gassy feeling.