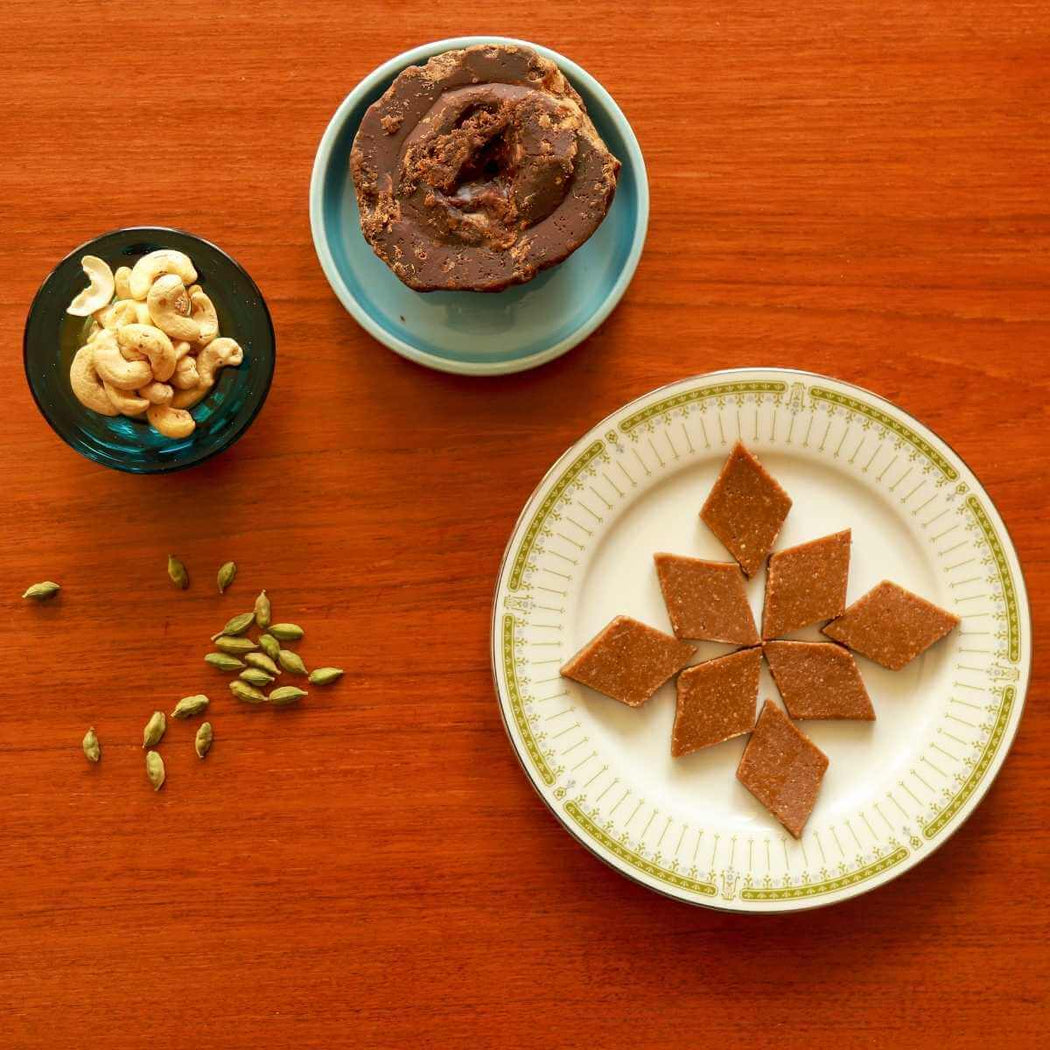 Karupatti Kaju Katli/Palm Jaggery Cashew Cake
Ingredients: Whole Cashew, Karuppati (Palm Jaggery) Brown Sugar, Ghee, Cardamom

Shelve Life: 15 Days

Allergen Info: Dairy

How To Eat: Serve it warn

How To Store: Store it in a cool and dry place inside an air tight container to retain its texture and increase its shelve life

Location: Chennai, Tamilnadu
In Hindi, Kaju Katli means "thin cashew slices," and it's a highly sought-after treat. With the healthiness of Karupaati and the richness of  Cashew, Karupatti Kaju Katli makes a healthful sweet delight. Indian cashews are used to make the soft and delectable Karupatti Kaju Katli. Sweet lovers choose Kaju katli for every celebration, no matter how big or small. On Diwali and Ganesh Chaturthi it is likely to be one of the most gifted sweets in India. Kaju Burfi, which is another name for this, is a popular dessert in India. It's a Diamond-Shaped Cashew Nut Treat of the highest quality. This mithai is especially popular at weddings, but it's also great any time of year.
Diamond-shaped wafer-thin sliced cashew burfi melt in your mouth and have a long-lasting flavour. A delicious way to end any meal, whether it's with friends or family. Your family, friends, and loved ones will be delighted with this box of sweets.
What are the advantages of eating Kaju katli based on karupatti?
Karupatti has a number of health advantages. Iron is abundant in this food. It has a lower glycemic index than white sugar, making it an effective treatment for anaemia. Elaichi and ghee flavour the dish, which also include Karupatti and cashews in their unadulterated form. When you're in the need of something sweet, these Cashew treats are the best thing you can reach with your hands.100% Gluten Free.
To satisfy your sweet taste, browse our selection of karupatti sweets online @ Snackative. Our sweets can be enjoyed from anywhere in the USA thanks to our delivery service.
When it comes to a nutritious dessert, taste does not have to be sacrificed. Turn your sweet tooth into a pleasure for your well-being by giving in to your cravings!
If you enjoy traditional south Indian sweets, you may also enjoy the following: Kovilpatti Kadalai Mittai, Peanut Jaggery Laddu, Green Moong Dal Laddu, Carrot Dates Mysore Pak etc.
Great
I am a great fan of sweets. A friend of mine gifted me this Kaju Katli during my birthday. I loved it so much. It is the best tasting and mouth watering product I have ever tasted. I'll recommend you to try it once.
I am a frequent customer of karupatti kaju katli and I love their range of sweets.
Favourite
Karupatti is my favourite sweets since childhood. So when I found it here, I ordered a big box. It arrived well packed and sealed. Thank you so much for your service. I will order again in future.
Good one
Thank you so much for making such a delicious product.