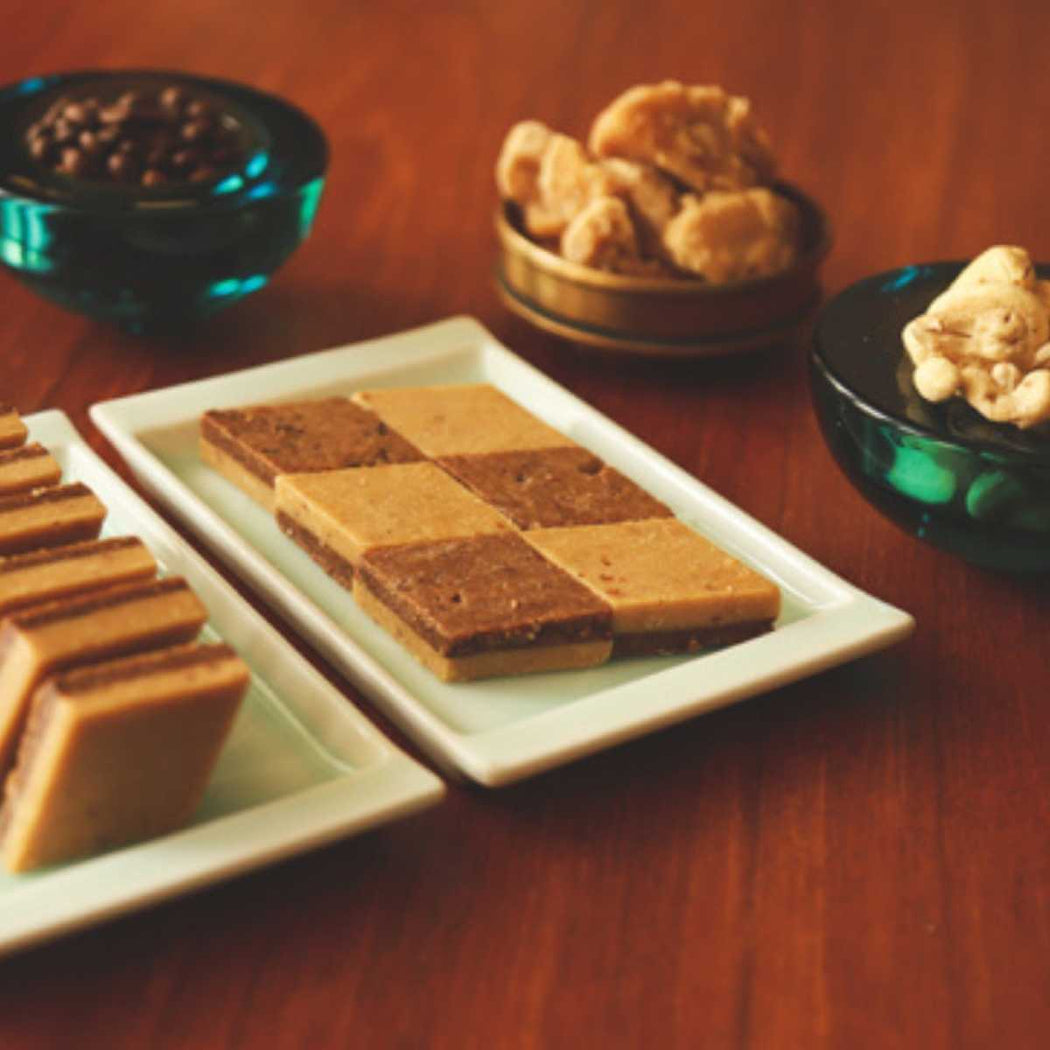 Kaju Kaapi katli (Cashew Coffee Palm Jaggery sweet)
Ingredients: Whole Cashew, Jaggery, Coffee Powder, Brown Sugar, Ghee, Cardamom

Shelf Life: 15 Days

Allergen Info: Dairy

How To Eat: Serve it warn

How To Store: Store it in a cool and dry place inside an air tight container to retain its texture and increase its shelve life

Location: Chennai, Tamilnadu

Kaju Kaapi Katli is a sweet delicacy in India. Whole Cashew, Jaggery, Coffee Powder, Palm Jaggery, Brown Sugar, Ghee, Cardamom combine to make the delectable north Indian delicacy known as Kaju  Kaapi katli. It is a luscious, delicious confection that melts in your mouth. With a touch of saffron or rosewater, it has a delicate flavour.
Did you know that Cashew katli is one of the most popular Indian sweets year-round? Do you know what everyone loves about it? It's light flavour, wonderful and addicting texture that takes you straight to creamy cashew heaven.
Kaju kaapi Burfi/Cake is an ideal present for any occasion or event, such as Diwali or Holi, to spread happiness. Thanks to its simple yet intriguing aroma, it™s an ideal beverage for enjoying with family and friends. Packed with nutrients, it™s rich in roasted cashew nuts.
Kaju Kaapi Kathli is Palm Jaggery Based Sweet and It's made with fully natural, no artificial colour, no preservations, no white sugar.  A wonderful combination that you will enjoy!Healthy Sweet (100% Gluten Free) Homemade Taste! At Snackative online store, you can buy Kaju kaapi katli and other authentic Indian sweets and snacks.
You can also try other Healthy combinations like Carrot Dates Mysore Pak, Green Moong Dal Laddu, Badam Saffron Katli etc at Snackative.
Good
I ordered the original kaju katli, it is really good. My wife and daughter loved it too. The delivery was on time.
Deliciouis
We are from the North and have always loved Kaju Katli. We have been searching for a taste which is as good as that of our home town and when we tasted your kaju katli, not only was it a great taste but also a very affordable price.
Kaju Coffee Katli
This product is so good. I bought it for my mom and she was so happy to have this taste after almost 25 years.
Original Flavour
The taste of the kaju katli was so amazing that you can't leave it without finishing it completely.