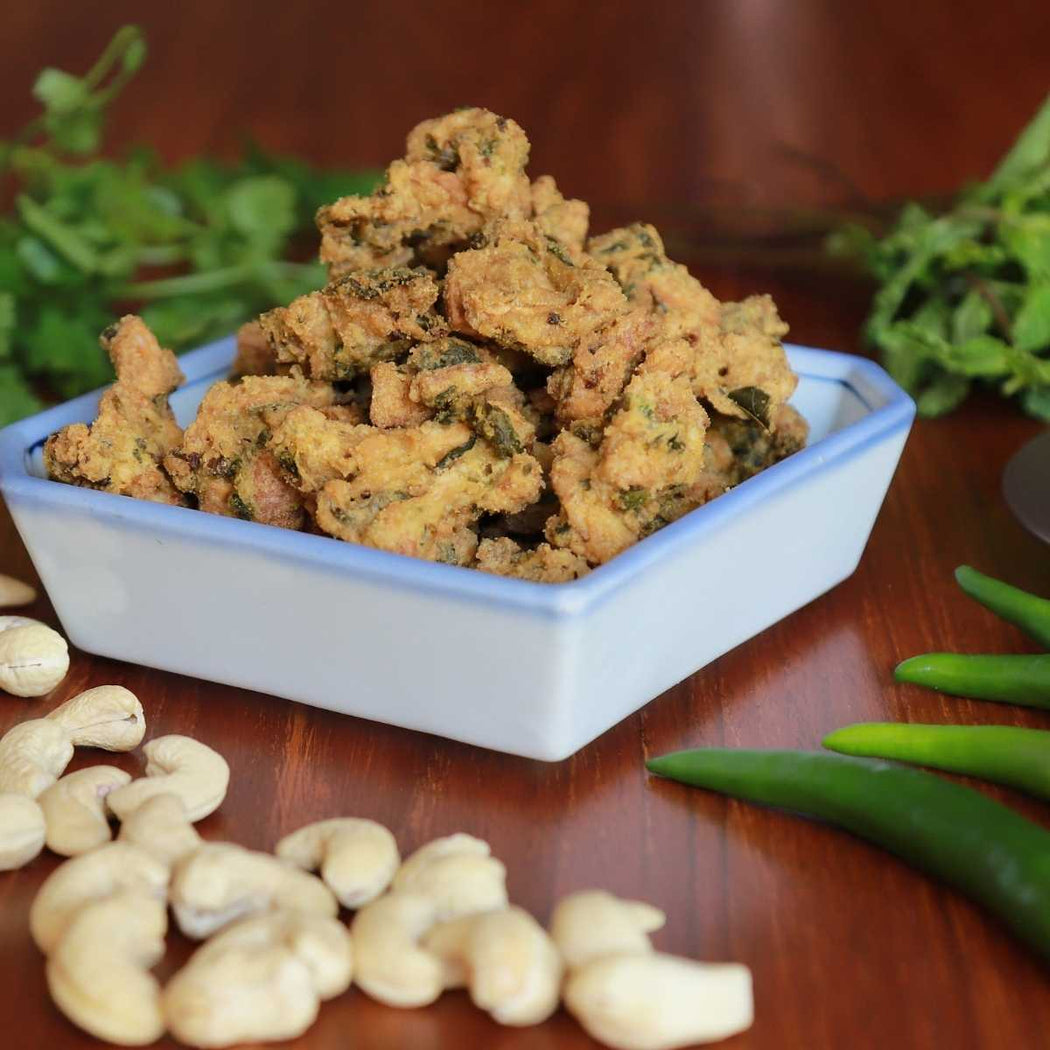 Ingredients: Cashewnut, Rice Flour, Gram Flour, Fennel Seeds, Coriander Leaf, Mint Leaf, Green Chilli, Ginger, Refined Sunflower Oil, Salt

Shelf Life: 20 Days

Allergen Info: Ginger

How To Eat: Ready to Eat
How To Store: Store it in dry place inside an air tight container or ziplock bags to retain its crunchy taste
Location: Chennai, Tamilnadu
In India, Kajus/Cashews are the most popular nut and are revered as a superfood. If you're looking for a tasty snack that's high in protein and low in fat, this Kaju pakoda is a great alternative for all of you. Make an online purchase of Cashewnut pakoda from Snackative to taste this spicy and crunchy snack.
These are also suitable for children. Giving your growing children a handful of these high-protein snacks as an after-school treat will allow you to watch them happy and well-fed throughout the day. If you're having chai, the Kaju will be a tasty and intriguing addition to your cup! Make your purchase online and get ready to eat some crunch!

This fried cashew pakoda / Munthiri pakoda is made with besan flour, rice flour, spices, and cashews and is crunchy and delicious. A beloved tea snack or a board room snack that everyone enjoys, especially with a cup of coffee or tea. The cashew pakoda is superior to conventional Pakodas in terms of flavour.

On a wet day, who doesn't enjoy a crunchy pakoda? We all do, in fact. As a matter of fact, it's one of the most commonly provided snacks in Indian households. For both family and social gatherings, Kaju/Cashew Pakodas delights guests with the flavour of cashews that have been roasted with red chilli powder, garlic, and salt. These are fantastic party starters. Heavenly bits of spice and crunch. These are great to give to friends and family for the holidays when you visit.

You may also purchase additional sweets and snacks like Thirunelveli Iruttu Kadai Halwa, Masala Peanut Pakoda, Chennai kai Murukku at the Snackative Online Store.
Tasty Pakodas
It's hard to find cashew pakodas outside of Tamil Nadu and I was missing this. Glad to find it available on snackative. It was delivered a bit later than I expected but the quality was good.
Medium
Not Crispy, taste is normal.
Snacks
Satisfied with the the items
very nice product
nice product , fresh and tasty
Kudos to you guys for the amazing job on the packaging.